KUALA LUMPUR, March 12, 2013 (AFP) – Abu Dhabi struck deals worth billions of dollars with Malaysia on Tuesday, a state-owned company announced, as Kuala Lumpur seeks investment to boost the economy before polls due by June.
The deals were announced after Malaysian Prime Minister Najib Razak met United Arab Emirates (UAE) Crown Prince Sheikh Mohammed bin Zayed al-Nahayan in the administrative capital of Putrajaya, just outside Kuala Lumpur
Abu Dhabi agreed to set up a $6.76 billion storage facility in Johor state in southern Malaysia, state-run 1Malaysia Development Berhad (1MDB) said in a statement.
The facility will be able to store 60 million barrels of crude oil and petroleum and is for Abu Dhabi's sole use, said the company.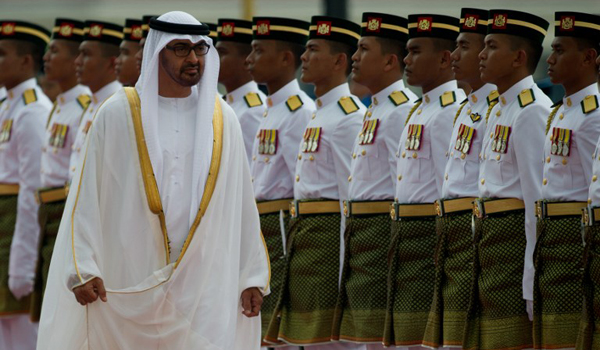 MALAYSIA, PUTRA JAYA : Abu Dhabi Crown Prince Mohamed Bin Zayed Al-Nahyan (C) inspects a guard of honour in Putrajaya on March 12, 2013. Sheikh Mohammed arrived for a visit to hold talks with the Malaysian leadership on bilateral and international issues. AFP PHOTO / MOHD RASFAN
Abu Dhabi's investment arm will also set up a $5.79 billion investment fund with 1MDB, as well as support a financial district 1MDB is developing in Kuala Lumpur, becoming its "first major multinational anchor investor", the company said.
Najib, who is facing what are expected to be his coalition's toughest elections ever against a resurgent opposition, has sought foreign investment as part of his aim for Malaysia to achieve "developed-nation" status by 2023.
But critics of his policies have pointed out that some previous investment plans announced amid fanfare eventually crumbled as foreign investors balked at preferential treatment for government-linked companies.
The foreign ministry said in a statement before the crown prince's visit that trade and investment between Malaysia and the UAE has seen "tremendous" growth in recent years.
Last year, the UAE was Malaysia's largest trading partner in the Middle East with total trade amounting to $8.0 billion, up from $6.8 billion in 2011.
Oil-rich Abu Dhabi is the capital of the UAE, a federation of seven emirates.