Although much medical progress has been made in the fight against HIV/AIDS, judgemental attitudes persist. Afia R Fitriati brings us the story of one woman doing her bit to change misconceptions and transform sufferers' lives.
For some, the thought of working with people who have HIV and AIDS may conjure sombre images of disease and death. But for Fathiiah Hamzah, it is a world associated with love, learning and fun. For the past five years, Fathiiah has taken on the role of project coordinator at a halfway home in Kuala Lumpur, Malaysia for children living with HIV/AIDS. Rumah Solehah (RS), meaning 'home of pious women', houses orphans whose parents have died of AIDS.
They were discriminated against by their own flesh and blood
Many of the kids have suffered mental and physical abuse from their own relatives and were abandoned on the street or at hospitals. Much of Fathiiah's responsibility is to engage the children in a variety of activities to nurture their diminished self-confidence.
'These children are the innocent victims of HIV/AIDS,' she explains. 'They were discriminated against by their own flesh and blood. It is a big challenge for us at Rumah Solehah to customize the upbringing of each kid. Most of them need emotional support, as they have struggled through much of their lives.'
Through the activities that she organizes, 30-year-old Fathiiah, the second child of a physician, gives the children an opportunity to explore their talents and shine. 'These children are just like any other children,' she explains. 'They are smart, funny and active. I strongly believe that it's never too late to start a great program for them. What makes them different from other kids is that they have to adhere to a routine of medication for the rest of their lives.'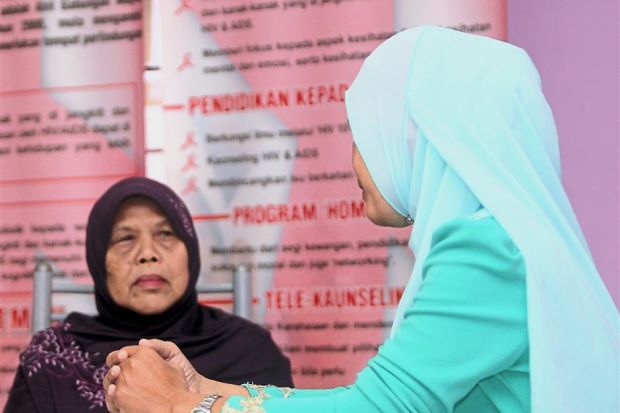 Since the creation of Rumah Solehah in July 1998, the organization has cared for more than 50 children, giving them a home and a family to belong to — something that children with HIV/AIDS are often denied. Fathiiah's journey with RS began when one of her seniors at International Islamic University Malaysia invited her to organize a birthday bash for the children of RS. There, she noticed that most of the children were not doing well at school. This inspired Fathiiah and her friends to start a tuition class for the kids. Soon after, when Rumah Solehah was seeking to fill the position of project coordinator, they offered it to Fathiiah.
The most common misconception I wish to dispel is how HIV/AIDS is transmitted
During her six years there, Fathiiah has organized an array of activities and events, ranging from birthday parties to Maulud Nabi and World AIDS Day celebrations. Some are held to engage the surrounding community while introducing the children of RS. Through such events, Fathiiah hopes to raise public awareness of issues surrounding children with HIV/AIDS. She has also reached out to and worked with other NGOs and institutions to organize play therapy sessions and classes such as acting and photography, among others.
Initially, finding volunteers to help her with the home's activities was quite a challenge. Public ignorance and prejudice against people living with HIV/AIDS often got in her way.
Despite publicly available information on HIV/AIDS, false beliefs remain widespread in Malaysia. 'The most common misconception I wish to dispel is how HIV/AIDS is transmitted,' explains Fathiiah. 'HIV cannot be transmitted through hugs and kisses, sharing food and drinks or playing together. As a matter of fact, people living with HIV/AIDS should be afraid of us, because we might infect them with bacteria or viruses due to their low immunity.' To persuade her friends to lend a hand, Fathiiah posted pictures of activities at RS on her Facebook wall. Soon, they drew the interests and comments of her friends, who eventually volunteered for future activities. Fathiiah also gets immense support from her family. Her brother is a regular volunteer-cum-photographer at RS events.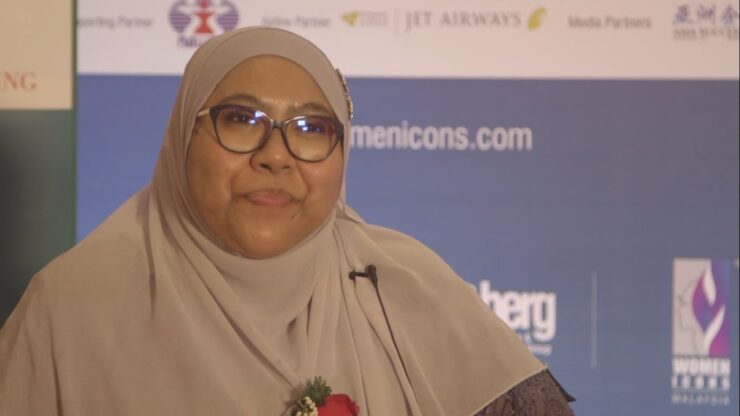 One of her proudest moments was when a quiet little girl emerged from her shell and began to express herself through painting
Fathiiah's greatest rewards come from watching the children bloom. One of her proudest moments was when a quiet little girl emerged from her shell and began to express herself through painting. Another was when she discovered the vocal talent of a diffident young lady and convinced her to lead the RS choir. Most often, though, her rewards come in the priceless little hugs and cheerful greetings from the children.
'I don't place high expectations on these kids, as they have been struggling with their lives. I really want them to have more fun. They are just kids. But if they are appointed a head of the class, start to read the Qur'an again and try to pray five times a day, that will make me even prouder.'
Thanks to modern medical advances, children with HIV/AIDS now have a longer life expectancy. Fathiiah has kept an extensive to-do list for their future plans. 'I want to help out a girl who would love to have a Muslimah apparel boutique one day, another girl to give a mini-concert performance, and another who wants to write her own storybook.'
RS was selected to work with UNICEF Malaysia in a project to set up a mini-library with furniture and a reading area. UNICEF also provided a consultant and a social worker to support RS programs throughout 2011. It was an ambitious undertaking that kept Fathiiah even busier, however, the photography aficionado has set up a plan for herself. In the future, she plans to continue her study to the Ph.D. level, focusing on children living with HIV/AIDS as her area of study.
If a home is where the heart is, then Rumah Solehah is home to many wounded hearts. Fathiiah Hamzah has dedicated herself to healing those wounds, raising public awareness and acceptance in the process. Aquila Style is honored to share her story as a Fabulous Muslimah.
To Donate To Rumah Solehah In Malaysia
Account name: PPIM RUMAH SOLEHAH
Bank: Standard Chartered Bank Berhad
Account: 3121-5705-1313
Learn more about Rumah Solehah at their Facebook page
This article originally appeared in the July 2012 issue of Aquila Style magazine