The organizer of the Aquila Style WOW Run 2014, the world's first running event for Muslimahs, opens up to Afia R Fitriati about her lifelong passion.
When Muzdalifah Anuar started wearing the hijab and attending religious classes in 2011, the retired Singapore Armed Forces captain was struck by an odd phenomenon.
"While I thought that fitness is part of our responsibility as a Muslim, it was not preached anywhere, not emphasized, nor was it even mentioned at most education centers", she said.
A sports buff, Muzdalifah had always found it hard to get a running partner. "It struck me then that not many Muslim women in Singapore found fitness to be as important as I did. When I asked around, those who took pride in their looks prefer to pop slimming pills or pay thousands of dollars for slimming treatments than sweating it out to burn fat."
The lack of fitness education among Singaporean Muslim women prompted Muzdalifah to start POP WOW, a company dedicated to creating awareness of the importance of fitness and total wellness in Islam. The company also advocates active living. POP WOW runs Pilates and swimming classes, and it offers services, like personal coaching, natural healing and other wellness programs. New activities, such as aquarobics (aqua-aerobics), paintball and archery will also be introduced at the wellness center in the future.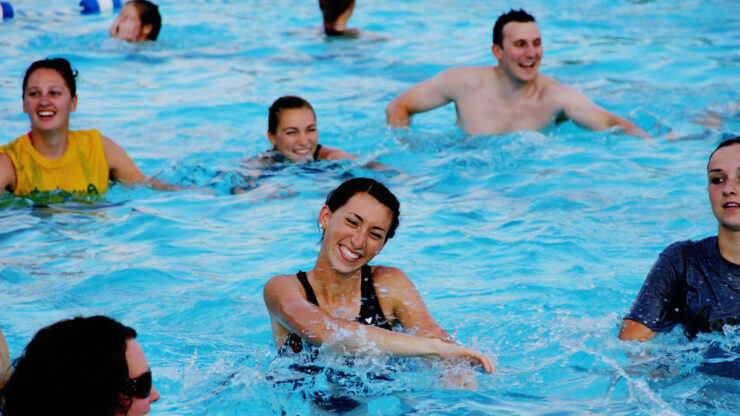 Right now, Muzdalifah and her team are busy preparing for the upcoming Aquila Style WOW Run 2014, the world's first running event for Muslimahs, in Singapore on February 9. The response from Muslim women has been so overwhelming that the team has had to open up extra slots for registration.
Through organizing the event, Muzdalifah wishes to challenge the belief that Islam restricts women from participating in sport.
"Islam is the only religion that gives women such rights and respect," she said. "Society put that restriction on us and it is up to us to remain mere followers or to stand up and fight for our rights – for ourselves and for the religion."
Learn more about POP WOW and Register now for WOW! Run 14
Disclosure: Aquila Style is a sponsor of this event