People gather to form a woman symbol to celebrate International Women's Day at Manila's Rizal Park on March 8, 2014. The organizers hope to bring in 10,000 participants and set a Guinness World Record for the largest human woman symbol. The event's official recorded participants have yet to be announced by Guinness World Records.
MANILA, March 8, 2014 (AFP) – Over 10,000 people gathered in the Philippine capital on Saturday in a bid to set a world record for the largest formation of the gender symbol for "woman", as part of International Women's Day.
The event, sponsored by the government's commission on women and the local bottler of Coca-Cola, brought together 10,168 men and women who formed the giant symbol in Manila's main public park, organizers said.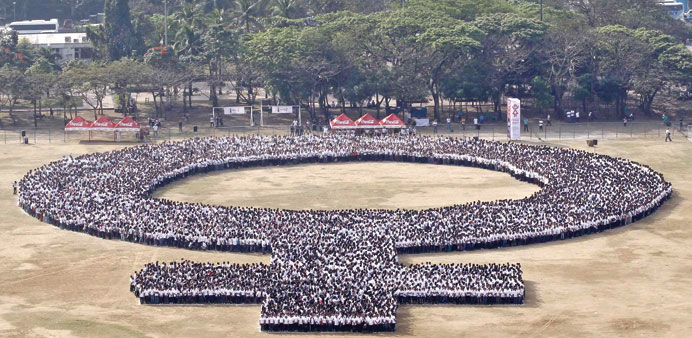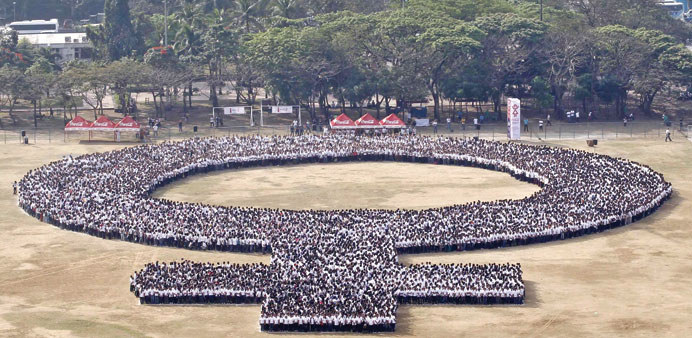 "The women's symbol puts a spotlight on how women are poised to become the social and economic powerhouses of the future," Adel Tamano, the Coca-Cola Philippines vice-president, said.
Organizers of the event said that it would still take a week before the record is officially validated by Guinness World Records.
There is no previous record for the largest human formation of a gender symbol, although the Guinness website lists 10,563 people as taking part in a giant formation of a droplet in Haryana, India in November 2013.