Finding a hijab style that flatters your face shape is easy. Dina Toki-O shows you how.
So, we'll start off with naming the most common face shapes: oval, square, round, rectangular and heart-shaped. I know that all these different face shapes may sound 'weird', and you most likely would never have considered them before. If so, you'll need to do a mirror analysis to determine your face shape after you've read this post!
The Oval Face
Considered by many to be the 'perfect' face shape, if you fall under this category, let your hijab fall naturally against your face shape when styling it around your face's frame. You would want to keep that beautiful oval face, well, oval. Follow your face with the scarf as you're wrapping it around your face, and remember: you don't need any adjustments, because oval is 'perfect'!
The Rectangular Face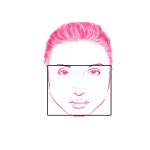 If have a considerably short face (ie, your face width from side to side is longer than its length from top to chin), then what you want to do is try to lengthen your face as much as possible. By bringing the sides of your scarf a tad forward to the ends of your eyebrows and pulling your scarf back to your hairline, you'll automatically lengthen your face. The best tip for this look is to avoid hiding your eyebrows and forehead!
The Round Face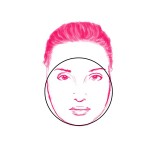 So if you're a little 'chipmunk' with nice, chubby cheeks and a rounder chin, you'll likely want to disguise those cheeks and chin as much as possible. If you are tucking your cheeks into the side of your scarf, don't. This will just end up making you look more like, indeed, a chipmunk! Instead, let the scarf fall against your cheeks and chin loosely, especially under the chin so as not to push it out too much. By doing this, you'll create more folds and add texture to your hijab, which will disguise those rounder edges.
The Square Face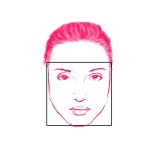 Now, if you have a square face with a strong, heavy jawline, cheekbones and forehead (ie, similar-looking to an 'action-man'), then again you're going to want to keep the scarf loose under the chin to create those feminine folds and flows in your scarf. By pinning the scarf tightly, you're just going to accentuate that jaw even more. Framing the scarf around your forehead in a rounder shape (but still keeping the forehead in view) will 'ovalise' your face overall!
The Heart-shaped Face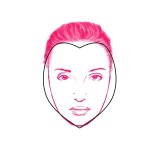 You have a lovely wide forehead and a teeny tiny chin that gives off a 'tweety bird' face. The problem of a 'disappearing' chin at times can happen! Not to worry – for your hijab styles, try not to add too much volume at the back and sides of your head; you already have that width naturally. By framing your hijab right at the edges of your jaws, you'll hopefully give off a bigger jawline/chin look. Another tip: make a point with your scarf at the top of your forehead.
I know, there are many more face shapes, and not everyone will fall under one specific category. The most important thing is to make sure you're confident with your hijab style. When you're confident, you can carry anything off!