We have cupcakes, cake pop and now – cake in a jar!
Baking cakes in glass canning jars is easy and they are perfect as single-serve desserts. You can have them at parties or just toss a few into your bag to share with your BFF during tea time at work. Is it safe or how is it is even possible, you may ask? Well… thanks to Jutta, here is how she bakes her mouthwatering Apple Almond Cake – in a glass jar! (source)
Recipe for Apple Almond Cake
4 mason jars of 250 ml (8.5 ounces) or 330 ml (11 ounces) each
180 g (3/4 cup) butter
3 eggs
180 g (3/4 cup) sugar
1 teaspoon lemon juice
200 g (1.6 cups) flour
1 teaspoon baking powder
3 to 4 apples
1 packet vanilla sugar (or some vanilla essence)
1 tablespoon icing sugar
2 tablespoons almond flakes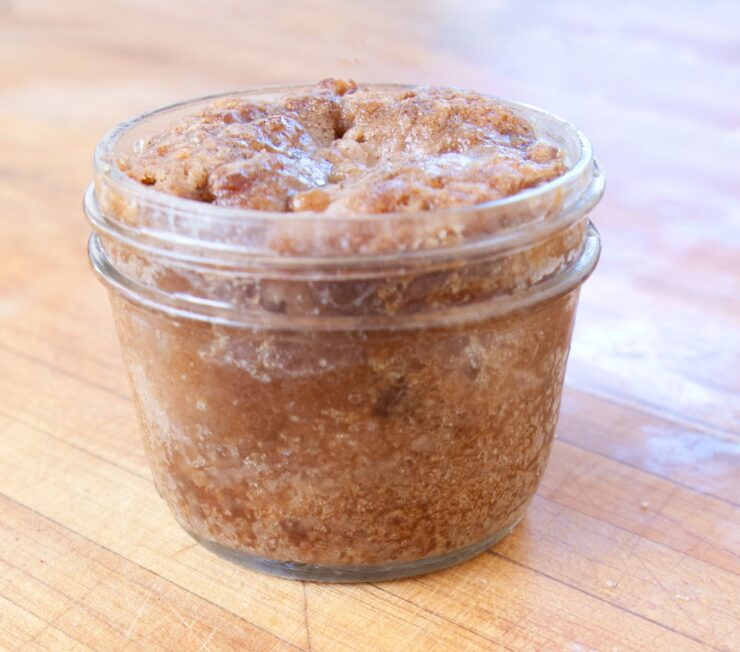 Instructions:
Preheat the oven to 160 degrees Celsius (320 degrees Fahrenheit)
Melt the butter in a pot
Whip the eggs, sugar and lemon juice until foamy
Mix the flour and the baking powder. Then stir into the egg mix
Mix the butter in
Peel and cut the apples into small pieces. Then mix with the vanilla sugar
Coat your jars with oil, then fill in the dough, apples, dough and repeat the same sequence
End with a layer of dough and only fill to about half of the height of the jar
Bake for about 20 minutes
Mix the icing sugar with almond flakes and sprinkle them on the cakes
Bake again for another 15 to 20 minutes, until an inserted skewer comes out clean
Your cakes are ready to be served as is, or you can also seal them and store them in the freezer for later.
They don't just look good, but they also make great gifts with a personal touch, don't you think?
Conclusion
When it comes to baking, nothing can feel more satisfying or gratifying. However, if you are someone who is an amateur baker, you might always want to be prepared for backups in the event the cake goes wrong. In such cases, credible online platforms like BloomingBox can emerge as sweet saviors and satisfy your cake craving needs in the event something goes wrong.