Check your shoe rack. You probably have too many flip-flops at home with one or two pairs struggling to make the cut into your current style. We have a great idea! This adorable and cute pair of sandals can be yours with the following simple upcycling instructions.
Materials you need:
Used flip flops
A pair of scissors
Marking tool
Craft knife
Heavy-duty waterproof glue
Recycled fabric (t-shirts, ribbons, etc)
A flat tool to stuff fabric into the cut soles (ruler, etc)
Clamps (or heavy books) to set the sandals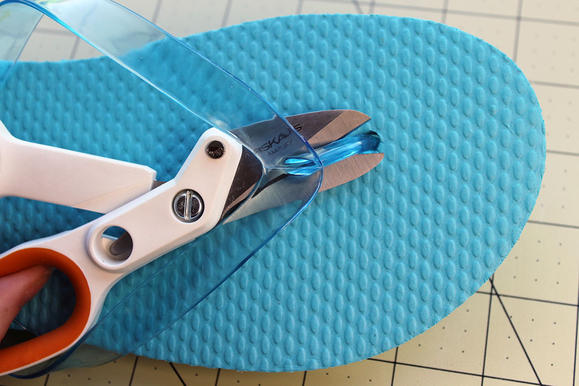 1) Cut the rubber straps away.
2) Glue the 2 rubber plugs (between your toes) to their original positions.
3) Cut out 2 long strips of fabric. Insert into each hole (previously holding the rubber straps) and tie a knot. Secure them with glue. This is the part where the fabric will go across your ankle.
4) Make a horizontal slit at the side of each rubber sole. Approximately 3.2″ in length. Cut out 2 wider strips of fabric for the front portion. Measure according to your fit, or 3″ by 8″.
5) Use a flat and long tool (like a ruler) to stuff this wider fabric on each side of the horizontal slits. Secure them with glue.
6) Set your sandals in place with clamps or something heavy for 1 hour or until they are fully dry.
So there you are — easy peasy, so try it! You can add decorative accessories available in your home to suit your style. Remember to reuse, reduce and upcycle!
Finally, here are some ideas on the varieties of style to work your magic.