A humble high school student has zoomed to stardom to win Indonesia's X-Factor. Afia R Fitriati has the story.
After dozens of elimination rounds over five months, the votes are in: 16-year-old Fatin Shidqia Lubis has emerged as the winner of the first season of X-Factor Indonesia, beating rival finalist Novita Dewi by a thin margin in SMS voting.
From her very first appearance on the stage of the talent competition, Fatin has captured the hearts of many with her unique voice and sheepish demeanor. Her distinctive vocals prompted the contest judges to draw a comparison between her and 90's pop icon Cindy Lauper.
Fatin has garnered so many fans and followers during the show's season that some people have dubbed the show 'the F factor' in her honor. And dozens of Fatin fan clubs – or 'Fatinistics' – have emerged on the Twitter.
RCTI, the television station that airs the series, seems to have capitalized on the petite girl's popularity by placing her performance near the end of each week's show, keeping people's eyes glued to the screen.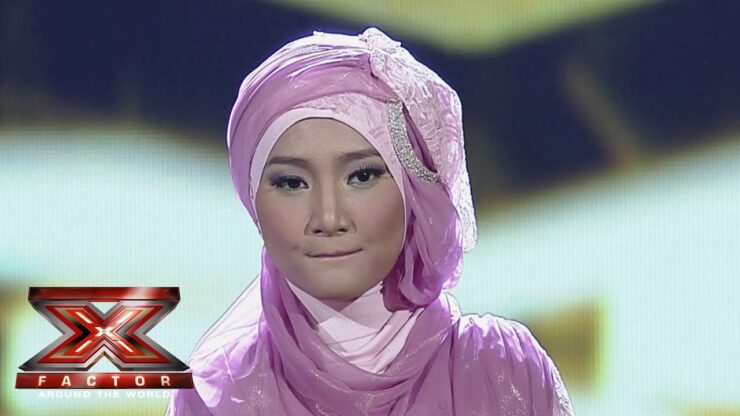 Being the contest's only hijabi has undoubtedly also made Fatin stand out from the rest of the show's line-up. In the dozens of countries that have their own versions of X-Factor, Fatin could very well be the first hijab-wearing winner.
Twitter users scrutinized her attire as closely as her performances. For a number of her gala performances, no less than renowned Indonesian designers Dian Pelangi and Jenahara gave her styling tips.
As the show's winner, the daughter of Bahari Lubis and Nurseha Thamrin receives a cash prize of roughly US$10,000, a car and a recording contract worth around US$100,000 from Sony Music Indonesia. Even before her first album is released, the single that Fatin sang in the final round, 'Aku Memilih Setia' (I Choose to Be Devoted), already topped the iTunes charts in Indonesia.
When asked by reporters about her plans for the prize money, Fatin gave a simple answer, 'I'd like to buy a new cell phone. My phone is old and outdated.' Fatin also plans to use the cash prize to pay for her parents' hajj trip.
Some critics argue that if measured in terms of singing techniques, Novita Dewi, the other finalist, should have been the winner instead of Fatin. But with her one-of-a-kind voice, demure looks and adorable personality, it seems that Fatin Shidqia Lubis has the true X-Factor.
Watch the announcement of Fatin's victory as well as one of her performances: