They're not the easiest articles of clothing to get right, says Maryam Yusof, but the variety that they provide can add depth to any wardrobe.
Recently,  a friend turned up to class wearing pretty awesome acid print jeans. While I complimented her on her sartorial chops, a male friend of mine – characteristically I might add – asked, 'Why are you wearing your pajamas to school?'
Sure, printed pants can sometimes make us look sloppy and verge on the pajama-wearing territory, but this certainly isn't always true. My friend's outfit, for example, didn't. Hers was more akin to that of a risk-taking fashionista. She managed to pull off her acid print pants quite nicely.
This illustrates that some lads neither understand nor appreciate printed pants. Keep this in mind next time a boy flings a negative comment your way.
I'll admit that for me, wearing printed pants is intimidating. Though I'm immensely attracted to funky printed pants when shopping, I still tend to reach for my jeans and solid-color pants when selecting my outfits. Still, you shouldn't let that stop you from trying the printed pants! As a case in point, today I decided to pull out a pair of printed pants that I hadn't worn in a while. No pajama jokes were made. Though this is admittedly setting the bar a bit low, I still count it as a success!
The key to pulling printed pants off is to know how to style them. Here are some suggestions:
Pick a color; coordinate accordingly
Take the pants presented below by Pepe Jeans, for example. If you have a pair like these, with a navy blue base but orangey-pink motifs, you could wear a basic salmon or purple top. Similarly, even if your pants are incredibly colorful, you could pick a distinctive shade from the print and match it in your top. You could also consider matching your shoes to the brightest color to maintain consistency.
Wear a blazer
A blazer makes the overall look more formal and thus less 'pajama-esque'. A structured blazer in black or navy would particularly make for a more formal outfit. Note: remember to wear a solid-color top that matches the pants.
Consider the material and cut
Loose cotton pants will naturally look more casual than ones made of denim or ones that have a structured tailored cut, so think about the look you're after when shopping. Also, printed pants that are tailored-cut will appear more formal than relaxed fit ones.
Relaxed fit by French Connection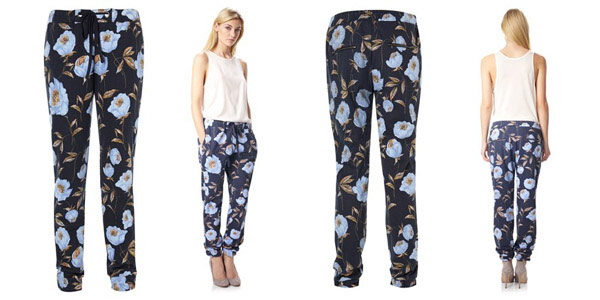 Tailored cut by MANGO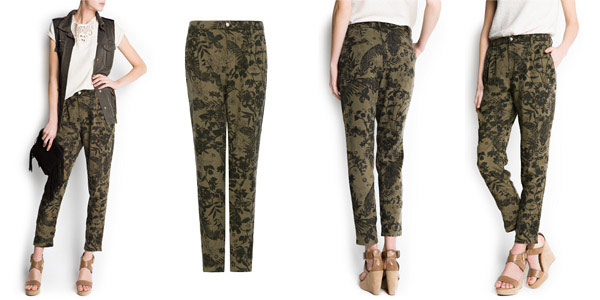 Match with solid colors
Although mixing clashing prints has been common on catwalks in recent seasons, such a look might be hard to pull off for some. Instead of making a clashing-prints faux pas, stick to wearing matching solid colors instead. The same rule should apply when picking your hijab. Don't wear a hijab with many details and colors, but choose a solid-color one that matches your pants instead.
All hail heels!
Flats give a far more laid back feel than heels, which always help to make an outfit look more put-together. Heels can be a lifesaver if you need to up the formality factor.
Simplicity
Since your pants are the focus of your outfit, you should keep the rest of your outfit simple by using simple makeup, accessories and handbags. Using loud or busy accessories may overcomplicate your outfit and possibly push you back into pajama territory.
Print and height are related
When considering a purchase, you should consider the height to a print-size ratio of you and your pants. While taller women can pull off large prints, smaller prints or patterns are more suited to petite body types.
Although the thought of wearing printed pants may seem intimidating at first, it is entirely possible to pull them off well and stand out from the crowd – in a good way. Time to give them a try!