Let's face it, coming up with ideas for a tattoo may sometimes prove to be a daunting and challenging task. After all, this is something that will stay on the body for the rest of your life… Sort of. Yes, there are some removal methods, but if you choose your tattoo wisely, there will be no reason to undergo (sometimes) painful, costly, and unpleasant removal procedures.
According to AUDIBLAV, there are many different styles you can choose from, and in this text, we will deal with an "underground" style- Arabic Calligraphy.
We didn't simply choose Arabic Calligraphy tattoos out of blue. Middle Eastern art is known for its beautiful arabesque style, with its lush mimicking of budding flora.
Most importantly, Arabic Calligraphy tattoos are not necessarily tied to the religious background of the Arabic world. Just like any other style, this style is universal, as it incorporates elements of a certain culture (in this case, Arabic) into the exuberant universe of calligraphy from the Middle East.
Without any further ado, let's jump straight into elaborating on 7 tips for beautiful Arabic Calligraphy Styles.
1. Arabic spine tattoo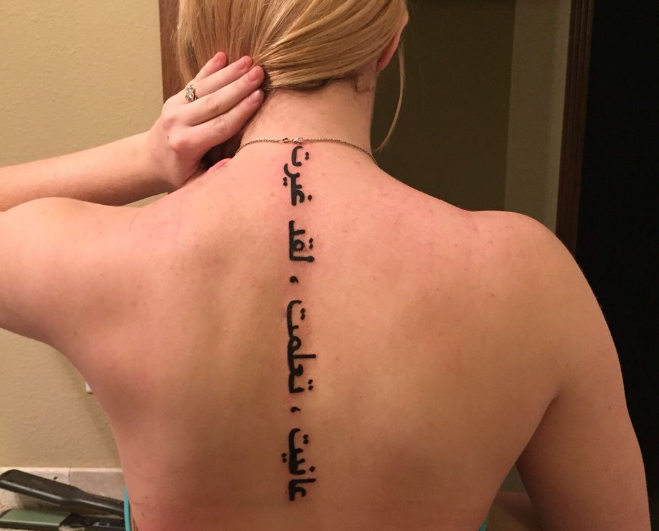 One of the most beautiful Middle Eastern calligraphy implementations is the Arabic spine tattoo. If you opt for this one, you will most likely choose a quote you like, or have one from the Holy Scriptures (if that's your thing). Needless to say, spine tattoos are somewhat large which means they tend to get more expensive.
2. Arabesques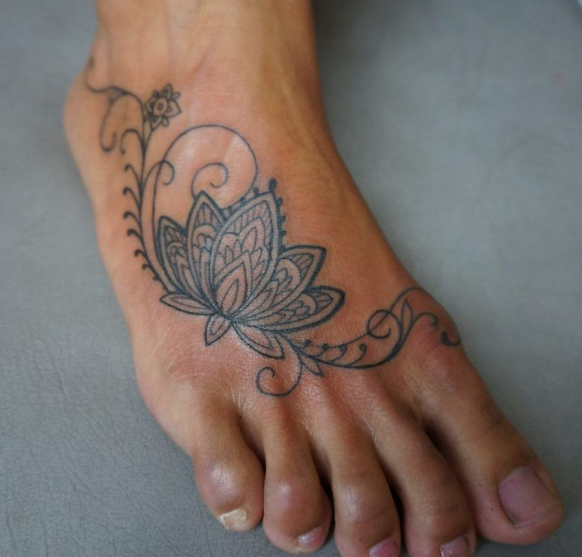 In the Middle East, the visual depiction of the human body is forbidden- more specifically the religion (Islam) forbids it. This is why this culture focused on arabesques- beautiful, complex ornamental shapes. Each arabesque is unique, which is why this might be the best choice for those who want to avoid any kind of textual content. Needless to say, arabesques still retain the flavor of Arabic calligraphy. Arabesques look the best when done in color, which further increases their complexity and expensiveness. On the other hand, Arabic Calligraphy per se only includes standard black ink. Possibly the best location of this type is just below your wrist, on the inner side of your forearm.
3. Miniature Arabic Style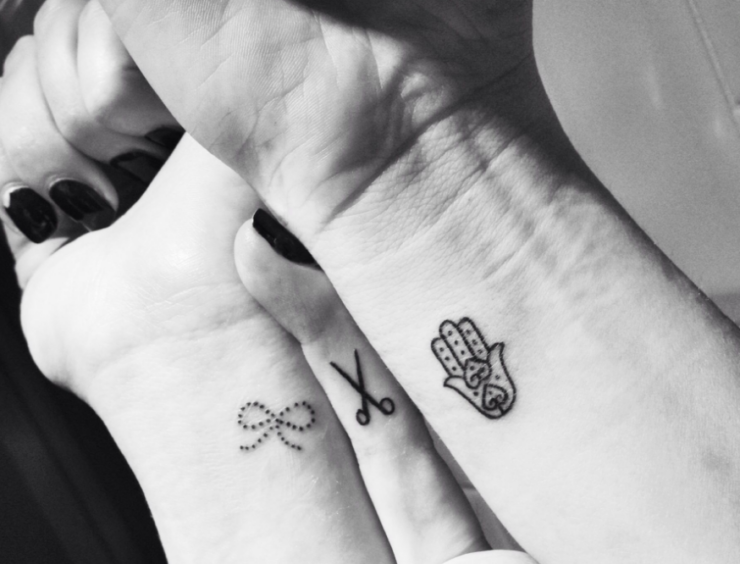 Some people like to keep it (small) and simple. Miniature tattoos are perfect for those who don't want to endure the inconveniences (and expenses) of making large images on their body. This type of tattoos will be most suitable for those who simply want to have some kind of text- that is if you don't want those ornamental shapes (arabesques) we talked about earlier. This is because arabesques are quite complex and their beauty would be practically lost if you make it as small as possible (and much more challenging for an artist to make). These are some of the possible ideas for the text:
"Love yourself first"
"Never give up"
"Love"
Needless to say, all these texts will be tattooed in Arabic unless you want to use the Middle East Calligraphy style to engrave Latin letters.
4. Arabic Calligraphy and Latin letters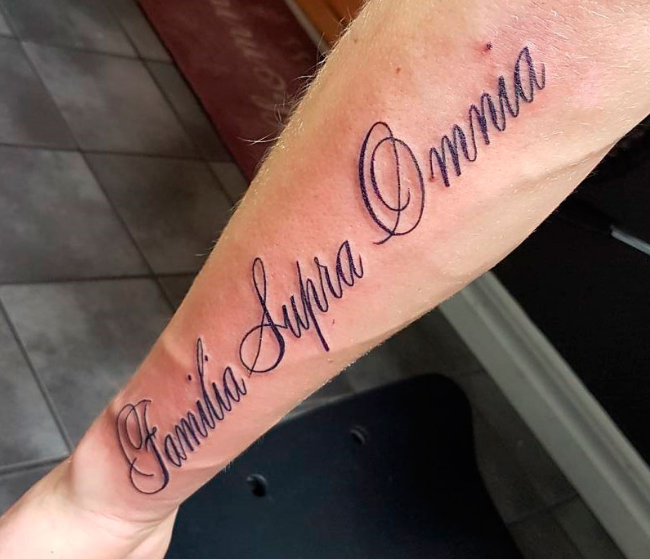 Some people like the calligraphic style, but simply want to stay away from the Arabic language. For these people, it might be best to simply use the calligraphic style they like, and opt for a text in their native language. This is possible, but it somewhat takes away from the originality and authenticity of Arabic Calligraphy.
5. Combination of text and arabesques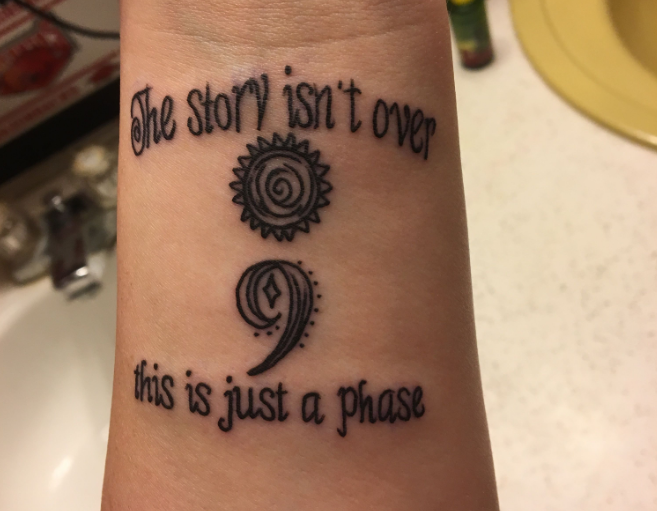 In Iranian, or Saudi art (which are the biggest nations in the Middle East), the textual content sometimes intertwines with abstract art. This option would be most alluring to those who have some kind of meaningful text they want to tattoo, but also want to retain that ornamental flavor of Arabic art. This style is also most suitable for those who would like to combine textual content and color.
6. Combining Calligraphy-Arabesque and Western tattoo styles
While fundamental Islamists believe that the human body shouldn't be represented visually, this doesn't mean that calligraphy-arabesque style shouldn't be used in contexts that directly contradict this "rule".
Tattooing a human body, or parts of the human body, in the arabesque style is innovative, beautiful, and original. This way, the parts look kind of lucid, playful, and, most importantly, characteristically Arab.
7. "Sleeves"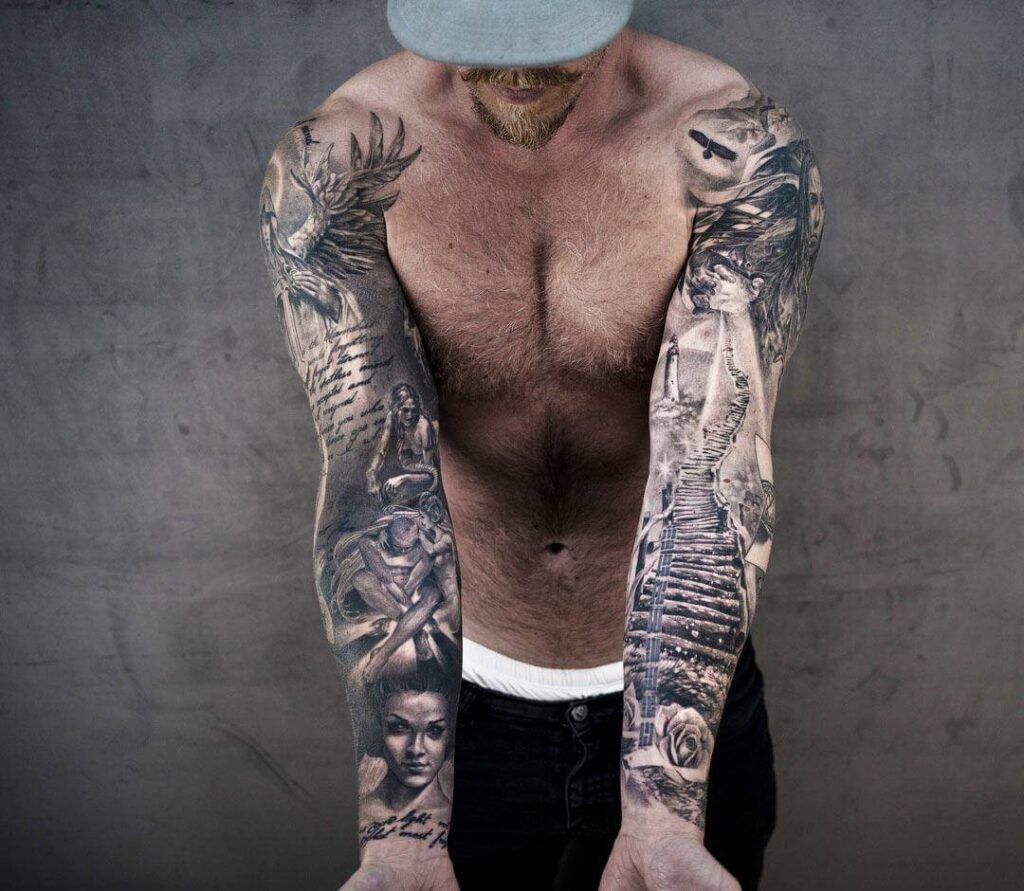 Most hardcore fans will most surely opt for this or other types of tattoos that cover large body areas. And it's true, this style looks the best when given enough space- most Arabic people who choose to have a tattoo would do something like this, and would probably "engrave" whole passages from Kuran. If you want to look like the Oriental version of the guy from Prison Break, this is the best tip you can get.
Conclusion
Arabic tattoos have actually become a sort of trend quite a long ago. Many individuals have some kind of Oriental-styled body images- Lil Wayne, for instance, has a miniature Arabic tattoo, but you probably won't notice this as his practically covered in them.
Rihanna also has one, but it's (usually) covered and hard to notice. Angelina Jolie has not one, but 2 Arabic tattoos. The first one is loosely translated as "determination", and the second one as "will power". Selena Gomez has something we've talked about earlier: "Love yourself first". This is not necessarily as egocentric and narcissistic as it may seem at first.
The list goes on and on. A slightly more egocentric version of Oriental tattoos can be seen on the body of Zlatan Ibrahimovic, a famous soccer player (football for those outside the US). He actually has his own surname in Arabic, which was done to honor his heritage
You also have to pay attention to get it grammatically correct, unlike Zoe Kravitz, who thought that she had something like- Let the love rule- but she got it a bit wrong. Colin Farell also took the standard route and simply tattooed the word freedom.
Possibly the most important thing to take care of when tattooing something in a foreign language is grammar. We all know about those comic situations when people have some kind of Chinese characters which mean absolutely nothing, or when, even worse, they mean something insulting.