Anti-Muslim violence in southern Sri Lanka by hardline Sinhala-Buddhist nationalists threatens to be an eerie echo of anti-Tamil violence 30 years ago. By Abdul-Halik Azeez.
"They came after curfew was imposed," says Sharmila, sitting by the entrance of her destroyed house. "We thought we were safe in our houses, so we locked ourselves in, but as soon as we got the call saying that mobs were coming, we fled with only the clothes on our backs."
Their house in the village of Adhikarigoda, located in Darga Town, Aluthgama, on the south coast of Sri Lanka, was subsequently razed to the ground as angry mobs flung petrol bombs that destroyed it in flames. Many houses in Darga Town suffered the same fate that night. Rikaza and her family ran to the nearby mosque; others in Darga Town that night fled into the bushes. Eighty-eight people were injured in the riots and 4 people died – three of them Muslim.
In that one night, 48 houses were completely destroyed, 60 partially. Thirty-nine Muslim establishments were completely destroyed, while 40 were partially damaged. Nearly 52 vehicles were destroyed; damages amounted to billions of rupees (tens of millions of dollars).
A few meters down the road, Fazmiya and her husband stand despondent in front of their former home, now a pile of rubble. I see a warped pile of iron that was once a sewing machine, while a single room with one absurdly untouched wall has a few burnt pieces of colorful fabric. It is all that remains of the family's clothing.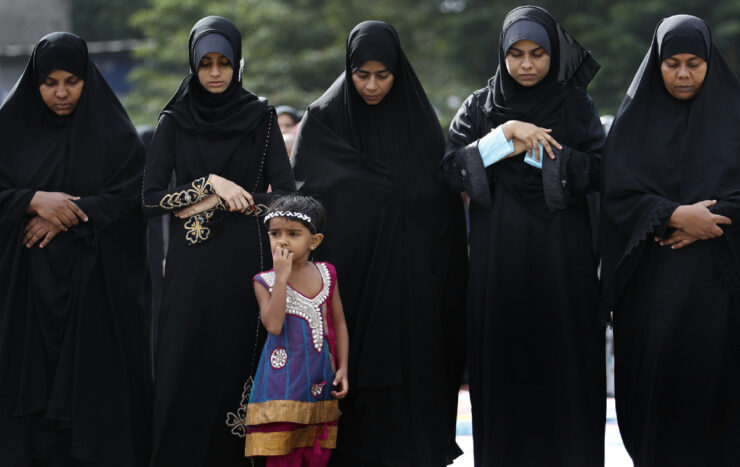 They point towards a small burnt-out TV in what must have been the living room. The daughter's study table, where all her notes and books were kept as she prepared for her A-level exams in a month, is now a pile of ashes. The tiled roof has collapsed; tiles are strewn all over the floor. The family has faraway expressions on their faces. They simply can't believe what's happened. Neither can I.
On the night of the riots I gathered with friends in Colombo, all of us worried. The Islamophobia of the last two years had slowly gained momentum and appeared to now have come to a head. All of us were thinking of Black July in 1983, a tragic day in Sri Lankan history when mobs wreaked havoc in Colombo, brutally murdering minority Tamils and destroying their property.
This sparked the beginning of the civil war, which lasted over 30 years and ceased only in 2005 with the military defeat of the Tamil Tiger rebels. The victory greatly boosted the popularity of the government, but allegations of human rights violations persist. Now, the target seemed to be Muslims. Was history repeating itself?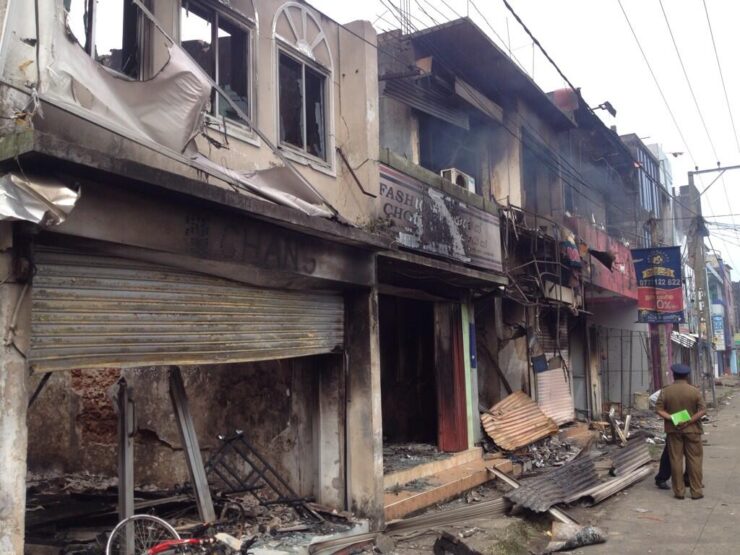 Just as in 1983, a potent mix of extremist jingoism, political opportunism and public unrest seems to have contributed to the riots in Aluthgama. The initial incident on June 13 remains shrouded in controversy. A traffic altercation occurred. Some claim a Buddhist monk was assaulted by Muslim youth in the process; other reports deny that the monk was ever touched and that the fault lay with the monk's driver who escalated the situation. Whatever actually happened, the incident was resolved by the next day.[i]
This is where extremists got involved. The Bodu Bala Sena (loosely translated as Buddhist Power Force, or BBS), an ultra-nationalist organization which has fostered links with Myanmar's hardline 969 movements [ii], immediately announced a rally in Darga Town to protest what it portrayed as a racially motivated attack against a Buddhist monk.
Despite repeated appeals by Muslim politicians and the general public to the authorities, the rally was permitted to go ahead. Events predictably went downhill from there, suggesting state collusion with, or helplessness in the face of, the power of the BBS.
After a vitriolic speech by BBS chief Gnanasara Thero, the crowd, mainly comprising non-resident Sinhalese, were whipped to a frenzy. Petrol bombs and weapons were distributed in what seemed to be a pre-planned and calculated maneuver.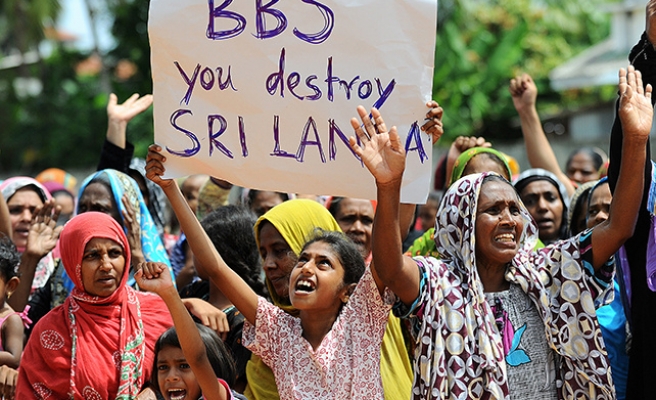 Standard tropes of global Islamophobia are all too easily taking root in Sri Lankan society.
Aluthgama is just the latest coup in an anti-Sri Lankan, anti-minority agenda that has seen the BBS and its affiliates attack Muslim-owned businesses, mosques and Christian churches since mid-2012. They support the oppression of Muslim women because of their choice of dress in state and non-state institutions, rail against the halal certificate, and spread rumors and hate speech that vilifies Muslims as a community. This is all regardless of the fact that Muslims have been living in harmony with the Sinhalese for centuries, if not millennia.
When I visit the area a week after the June 15 riots, the experience is surreal. Streets are crowded with visitors walking through burnt houses. Graffiti is scrawled on walls thick with soot: in some places Qur'anic verses appeal for patients in the face of adversity; in others, calls are angrily made for the BBS to be brought to justice. Still other graffiti tags – written in the same round cursive script suggesting it was the work of one person – ominously call for "jihad" and the "caliphate".
"Islamic extremism" has been a primary focus of the BBS in its fear-mongering campaign against the country's peaceful Muslim population. The notion has been put forward by extremist groups as well as politicians pandering to BBS ideology. However, there isn't any evidence to back these claims.
Muslims are also painted as being exclusionary and averse to mixing with Sinhalese and Tamils, with their growing numbers being a threat to the cultural integrity of the Sinhala-majority country. These standard tropes of global Islamophobia are all too easily taking root in Sri Lankan society.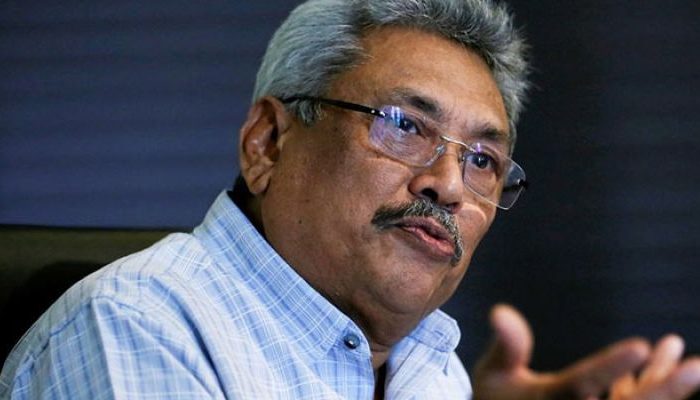 Despite the outcry from victims of the June 15 riots and a small concerned sector of the total populace, authorities have taken no concrete action to date against the BBS. Neither has the group been named directly in the various public statements released by politicians condemning the riots, including the defense secretary Gotabhaya Rajapaksa. Instead, most of these statements pointed to a non-existent Muslim element of aggression in Aluthgama. The BBS has denied being behind the riots.
As I write this some two weeks after Aluthgama, isolated incidents are still taking place across the country. A youth heading for prayers was attacked a week ago. And since the beginning of Ramadan, a mosque near my home was set on fire. Another, in Colombo, received a threatening letter that also included pig intestines, while a house in Darga Town was again set on fire.
There is no consensus on whether these ongoing attacks are coordinated. The BBS itself is a curious presence in Sri Lanka's current political sphere. While some view it as a government tool to distract an economically burdened public from very real political problems in the country, others point to it as simply the latest manifestation of an extreme right-wing brand of Sinhala-Buddhist nationalism, present since colonial times.
The majority of Sinhala-Buddhists remain peaceful and staunchly against racist violence in the country. However, this silent majority has yet to raise its voice in a significant manner. The Muslim community has so far shown patience and perseverance in the face of repeated aggression. I pray that they continue to do so and that they seek out closeness to God in this month of Ramadan.
---
[i] Frances Harrison, 'The agony of Sri Lanka's Muslims', Newsweek, 30 Jun 2014, available here
[ii] Jake Scobey-Thal, 'This is the modern axis of Buddhist hate', Foreign Policy, 7 Mar 2014, available here