Trends are something that is changing quite often. This especially counts when we talk about fashion. There are many pieces of evidence of those changes when you see the pictures of different periods of human history. For instance, compare the trends in the 80s, 90s, and 00s. You will see that the changes are quite big.
We know that some people feel nostalgic and they follow the same fashion trend for years. Indeed, this is the right that every person has. If you are a big fan of the 80s, then wearing clothes from that time is completely okay.
One type of clothes that we would want to cover here is – maxi skirt.
Maxi skirts are a long time favorite of the fashion world, and it's easy to see why! This piece is such a gorgeous and easy item, delivering you big points on style and comfort that works for literally all seasons – plus it's a classic cut. Could you even think of anything else you need from your skirts? Nope, didn't think so! So it's safe to say that if you don't already have one of these bad boys tucked away in that wardrobe of yours, it's time you hopped online or head into – gasp – a brick and mortar store, to browse some on Flannel website.
You should feel confident with investing in your maxi skirts of choice (oh hello, silk slip skirt) because it's never going to go out of style and high quality mean it will last you forever.
There are certain styles that you might be inspired by. However, before we do that, we need to inspire you to purchase a maxi skirt. We know that people that are not wearing this hesitate to spend their money on it. Because of that, let's see together the benefits of wearing a maxi skirt.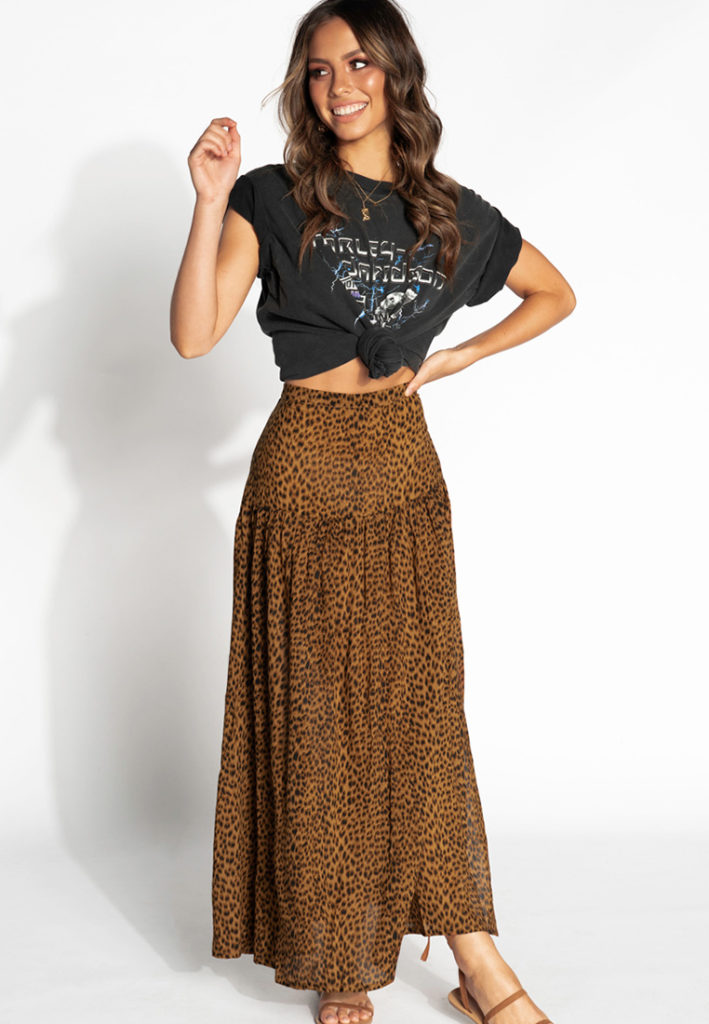 Benefits of Wearing Maxi Skirt
Okay, the first reason is clear and we explained it very well. You will look trendy and attractive to everyone around you (including women). However, some pieces of clothes also look nice, but people feel annoying when wearing them. Things are different when we talk about the maxi skirt. There are 5 benefits that we would want to highlight.
Great When Women Forget to Tan
The spring is the month when people start to wear more comfortable clothes. Still, this might be a big responsibility for women. Let's imagine that you agreed to have a date with some people. However, you completely forgot to tan. Logically, in that case, you will look for a solution. The solution you can find in maxi skirts.
First of all, you will be attractive to that person. As we said, these skirts amaze everyone. He will like how you look. Despite that, you will have the chance to hide your white legs while respecting the summer trends. It is not something that another person will notice. After that, there is enough room to fix things.
Great for Changeable Weather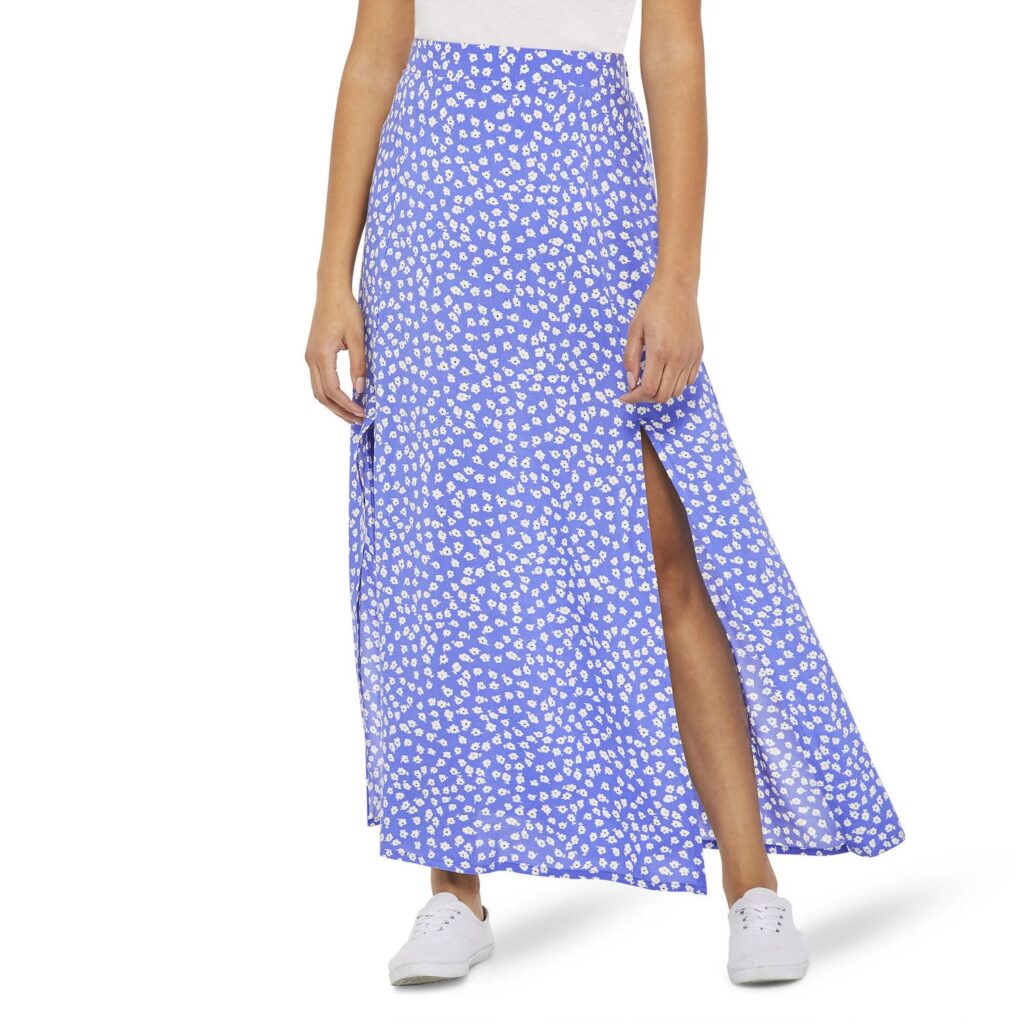 This is especially a problem during the spring and autumn. The temperatures in the morning hours are lower. However, they can go up to 20 degrees Celsius at noon. Under these conditions, it is hard to decide on perfect clothes to wear.
If you are not sure if it is cold or hot, maxi skirts are a perfect choice. Every woman will have a tank top or strapless top. Yet, it will also belong on the bottom. Because of that, you can easily just throw on a cardigan over the maxi dress for warmth. Do we have to repeat that you will still look attractive? Hope not.
Perfect for Lazy Days
Everyone has the right to have a lazy day. Men can't understand how much time women have to spend to get ready. This includes makeup, arranging hairstyles, and finding the perfect clothes combination to wear. However, when the lazy day comes, you need to find the easiest way to look nice. Well, with maxi skirts, you simply have to throw it over the head, grab a pair of sandals, and that's it. Your job is done there. Doesn't it sound easy?
However, there is something even better about this piece of clothes. As we said, you won't spend a lot of time on improving your appearance. Yet, people will think that you invested a lot more time. No one will know and realize your small secret.
So, what do you think now? Aren't these proves enough to understand how good maxi skirts are? Well, if you like what you just read, then we come to the main part. It is time to get inspired with different styling. Logically, not all women like to wear the same maxi skirts. Fortunately, they are suitable for different types. Let's find them out together.
Boho Babe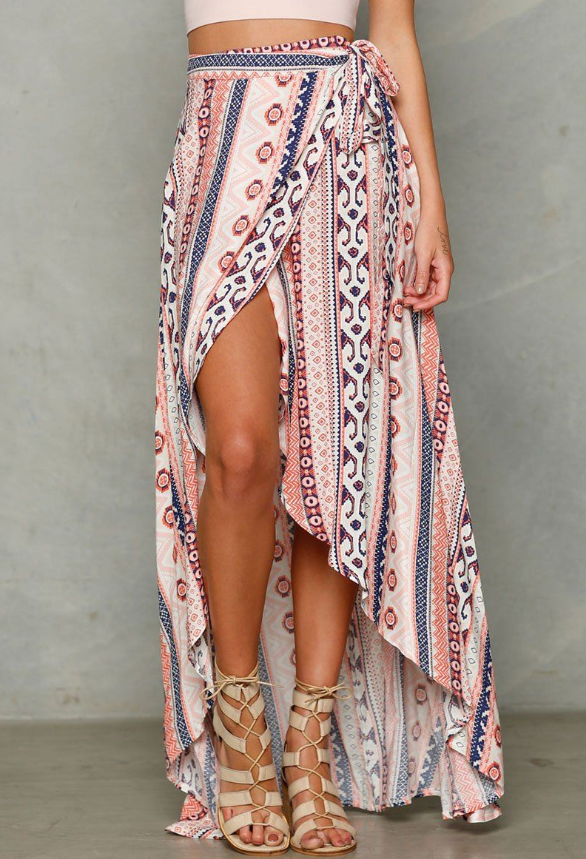 The bohemian look is so easy to achieve and it's super comfy, perfect for when you want to look fab without having to feel uncomfortable throughout the day. Start with a neutral or black maxi and pair with a peasant blouse or lace loose fit top. Step into some woven leather sandals, layer on plenty of pendant necklaces, and stack a few metal and resin bangles up to your wrist. Weave your hair into a messy braid or add a floppy sunhat. Some dark wine toned lipstick and a macrame bag are the perfect finishing touches to this easy, breezy boho vibe.
Boardroom Luxe
A maxi skirt is perfect to slot into your workwear outfit rotation. Simply pair with a close-fitting tee shirt in black, navy, or white and throw on an oversized boyfriend fit blazer in a classic herringbone check or pinstripe print. Add frilling white ankle socks and a pair of pointed brogues for a cute touch. A velvet hair tie and a worn tan leather satchel will complete this professional, pretty and polished get-up amazingly.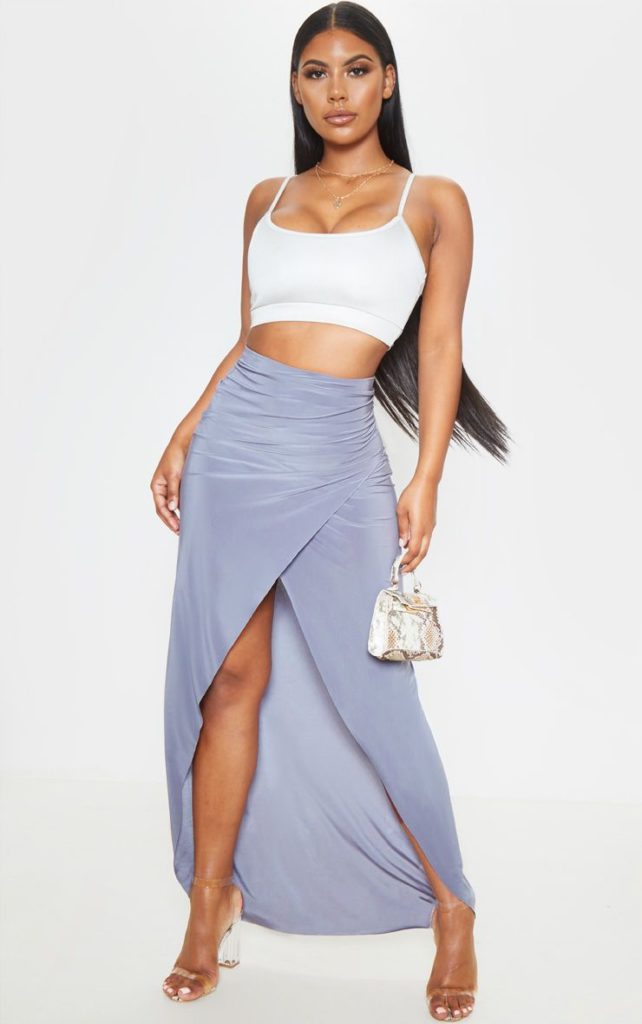 Weekend Chic
That's right, you can take that skirt straight from Friday meetings to Sunday coffee dates and errands – told you it was a game-changer! Simply wear with a cotton tank in white or black and throw on your favorite denim jacket. Some white leather sneakers, a basket bag and hoop earrings, and you're done! If it's warm out, ditch your jacket and swap out your tank for a cool girl band tee.
All Silk Everything
This one needs a silky maxi skirt to work with, so go ahead and skip to the next idea if that's not what you've got going on. Tuck in slinky silk or satin cami in the same shade as your skirt, and you'll find yourself with a gorgeous silky gown! This one is perfect for formal events. Kick the glam up a notch by pairing with some strappy stiletto heels, layered gold chain jewelry, and a bold red lip.
Cute Contrasts
Choose a tough material to contrast with the femininity and gracefulness of your maxi skirt! This one is super easy but very effective, perfect for dates or casual social occasions. Add a chunky pair of platform sandals or biker boots, tuck in a turtleneck or oversized tee and throw your leather jacket over your shoulders. It's as easy as that! Add some golden glowing makeup and keep your hair nice and wavy to keep this contrast cute.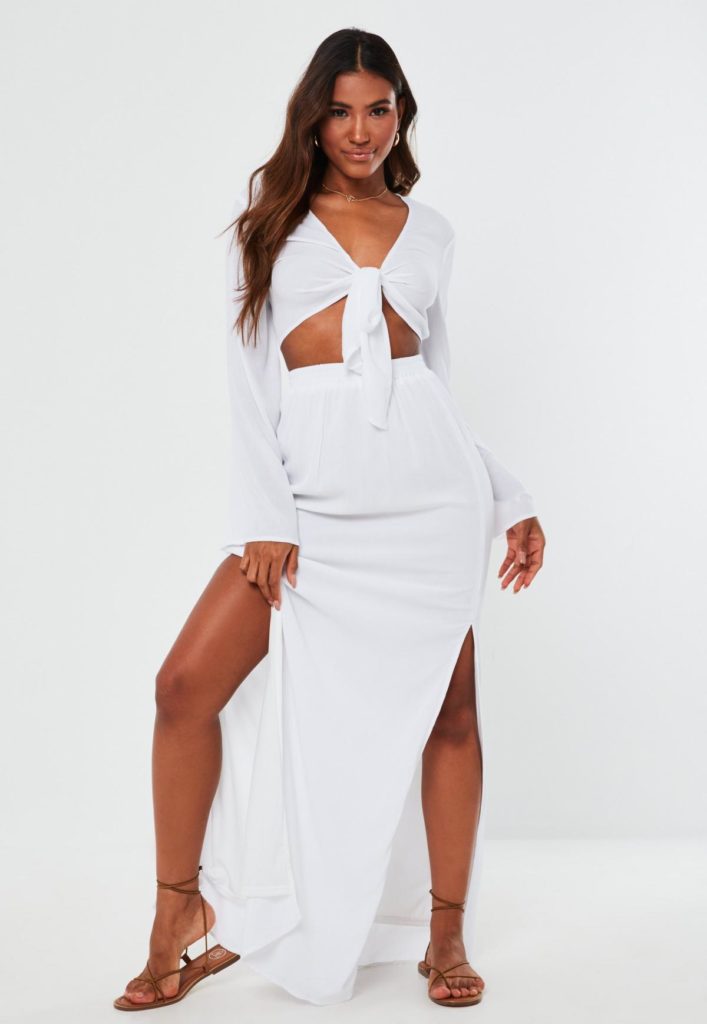 Night Out
You can even take your maxi out for a night on the town! If you're up to it, wear your maxi skirt with a square neck crop top, step into some kitten-heeled mules, chuck your hair into a ballerina bun and line your eyes with an inky black liner. If you prefer to keep your midsection covered, simply swap it out for a plunging v-neck blouse. Carry an on-trend micro mini leather bag and you're all set to hit the dance floor.
There you have it, some fabulous styling ideas for that maxi skirt!