ANKARA, September 30, 2013. By Fulya Ozerkan (AFP) – Turkey on Monday announced it would lift a ban on women wearing headscarves in most public offices, following other measures critics say are aimed at Islamising the staunchly secular country.
In a major speech to introduce political reforms, Prime Minister Recep Tayyip Erdogan said that, with a few exceptions, civil servants would be allowed to wear headscarves after a long-standing ban is overturned.
However, the ban will remain in effect for judges, prosecutors, police and military personnel, he added.
The lifting of the ban was part of major political reforms announced by Erdogan in order to enhance the rights of minority groups including Turkey's 15 million Kurds.
The headscarf controversy reveals the rivalry in Turkey between religious conservatives, who form the bulk of Erdogan's Islamic-rooted Justice and Development Party (AKP), and secular opponents.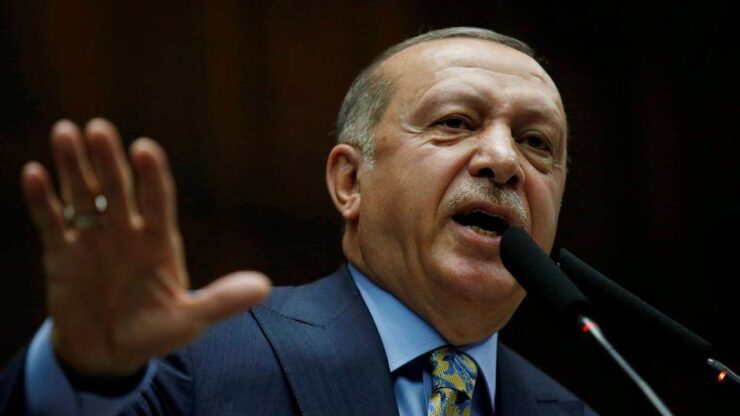 Secularists — particularly those in the army — see the headscarf as a symbol of defiance against the strict separation of state and religion, a basic tenet of modern Turkey.
Erdogan's government was hit by a wave of nationwide unrest in June that threw up the biggest challenge to his decade-plus rule. Protesters called Erdogan a "dictator", accusing him of Islamising the predominantly Muslim but staunchly secular country.
Critics say that Erdogan's rule has left Turkish society more polarised than ever, with opponents of the AKP government openly voicing concerns that Turkey is sliding toward conservative Islam.
A supporter of Turkish prime minister Recep Tayyip Erdogan holds an AKP 'Justice and Development' party flag during a rally on June 16, 2013, in Istanbul.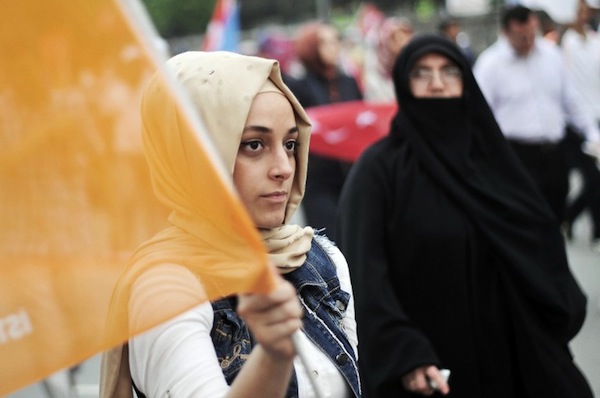 A supporter of Turkish prime minister Recep Tayyip Erdogan holds an AKP 'Justice and Development' party flag during a rally on June 16, 2013, in Istanbul.
In 2004, his party attempted to submit a controversial amendment on banning adultery but had to back down amid criticism from opposition parties and women's groups.
Last year, Erdogan provoked outrage when he likened abortion to murder.
Secularists were also alarmed when parliament in 2012 approved his education reform that allowed for religious schools to raise what he described as "a pious generation."
More recently, Turkey's parliament passed legislation curbing alcohol sales and advertising, the toughest such measures in the republic's history.
This month, an Istanbul court again handed a 10-month suspended jail term to world-renowned Turkish pianist Fazil Say during a retrial over social media posts deemed religiously offensive.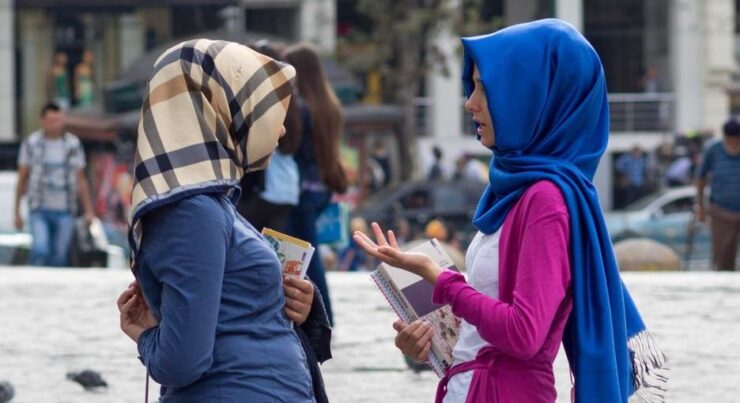 Professor Ilter Turan of the Istanbul-based Bilgi University said that the lifting of the ban on the headscarf was not unusual.
"The ban has gradually been melting down throughout the AKP's rule," he told AFP. "To a great extent, it has not been applied in some government offices and AKP-led municipalities."
The headscarf reform is considered as a gesture by Erdogan to his grassroots in the run-up to elections. His party has relaxed the ban at universities.
The country votes in local elections in March, a presidential election in August and parliamentary polls in 2015.
An AKP lawmaker, however, expressed discontent with the exceptions on the headscarf reform.
"Why shouldn't judges and prosecutors wear headscarves? Can't those who wear headscarves deliver fair verdicts?" AKP's deputy Cengiz Yavilioglu wrote on his Twitter account.
He also wrote: "The headscarf ban was one of the most serious human rights violations. Despite the exceptions, the lifting of the ban is the return of a major right."
The Islamic-rooted party insists that the ban flouts freedom of conscience and undermines the right to education.
The move is likely to pave the way for headscarf-wearing lawmakers to enter parliament. In 1999, Merve Kavakci of the now-defunct Islamic Virtue Party was prevented from taking her parliamentary oath because she wore a headscarf.
This news contrasts recent developments in the Canadian province of Quebec, where the government has moved to ban the wearing of "ostentatious" religious symbols, including headscarves, on public workers such as teachers, civil servants and healthcare providers.