Airbrush makeup is not reserved for makeup artists only for a while now, whereas many girls are already trying DIY airbrush makeup not as much as a new trend for the sake of having a pro-like makeup effect and efficiency in applying makeup which comes with the use of airbrush beauty kits. Some also would use an airbrush compressor for a DIY airbrush makeup kit. According to "Best Of Machinery", one of the most vital pieces of equipment in airbrushing is the airbrush compressor as it's the source of power for airbrushes. Whether you wish to mime that celebrity look you've seen on the red carpet, or you would like to look your best for the wedding you are attending next weekend, these are some of the best airbrush makeup kits you can review and choose from. 
1. Temptu Air Perfect Canvas Airbrush Starter Kit: Cordless Professional Airbrush Makeup System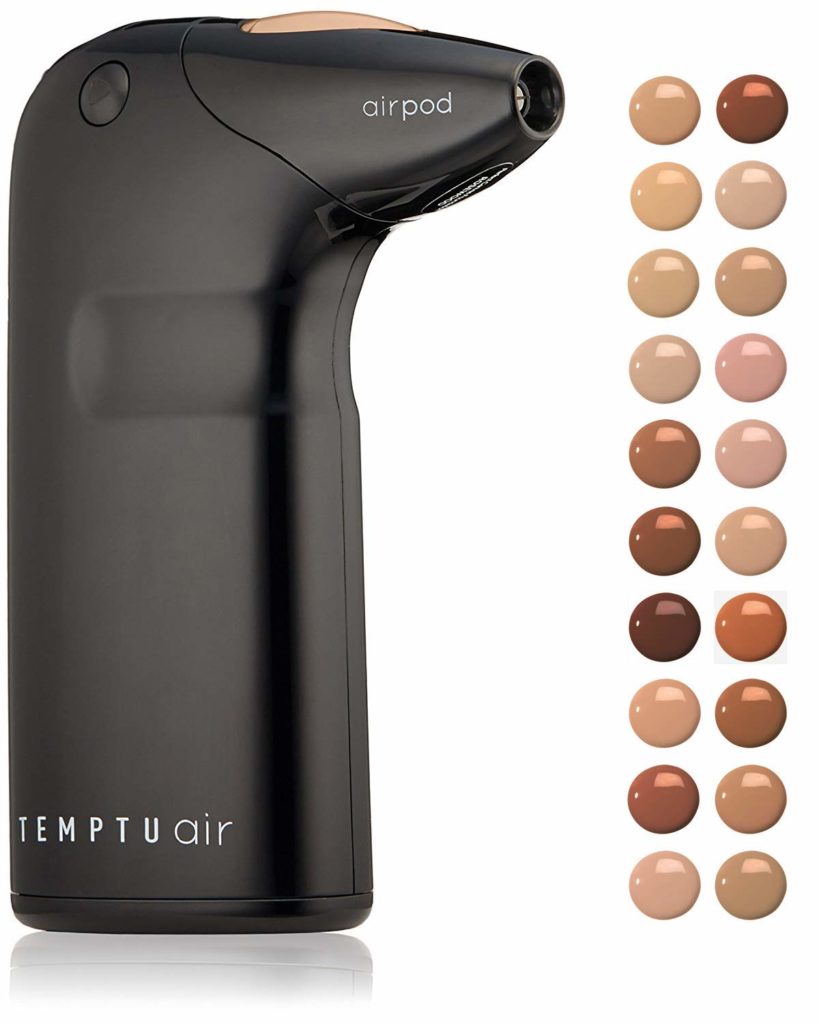 You can have your makeup done like a pro and all by yourself thanks to the innovative technology integrated into the Temptu airbrush makeup system. This airbrush beauty product runs on Atomized Airflow Technology, creating a micro-fine mist of makeup for the perfect flawless skin effect. The air pod for applying makeup is cordless, easy to use and provides instant effects, helping you get ready for any occasion in only several seconds. The finish is luminous and semi-matte with the instant blending of customizable coverage. Makeup is easily released with user-friendly and transparent controls. The spray is evenly and smoothly applied to the skin for a naturally flawless skin look. You can pick your shade of choice when ordering the product and enjoy weightless coverage with anti-age effects of the finish that in addition contains amino acids, goji berry extract, peptides and botanical blend for skin purification. The finish has quick-dry properties, and is resistant to oil and water, alongside being paraben-free. The device comes with a 2-year warranty on quality, while the rechargeable battery and USB cord for charging are included in the package. 
2. Art of Air Professional Airbrush Cosmetic Makeup System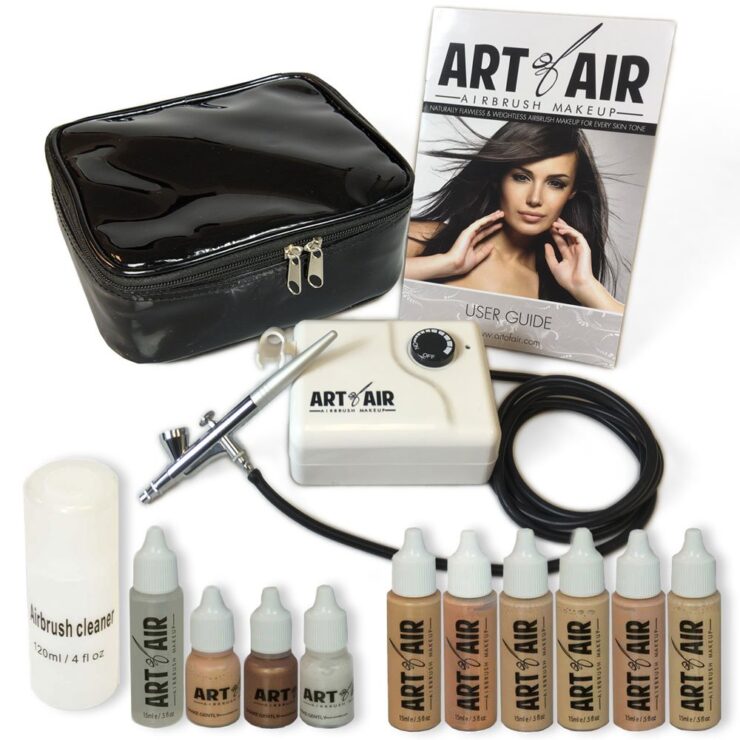 This airbrush and compressor system of Art of Air is fairly different from the Temptu makeup device, and it comes a 6-piece foundation set, with the fair and medium foundation as available options. The package also includes a deluxe bag for carrying and protecting the airbrush system, so you can neatly and safely store your airbrush system. The system is suitable for beginners as well as those beauties who are more experienced with airbrush kits for makeup. The product includes bronzer, shimmer, blush and anti-aging primer. The airbrush is designed to release tiny particles of makeup driven by the air compressor, that way creating the effect of flawless skin and natural look. The makeup is set to last for the entire day, while you can make a full coverage or use the airbrush for sheer coverage. It's applied promptly, perfectly matching the tone of your skin, covering blemishes, age spots, skin redness, freckles, acne, fine lines, and birthmarks. The airflow is adjustable with easy-to-use control settings. 
3. Belloccio Professional Beauty Airbrush Cosmetic Makeup System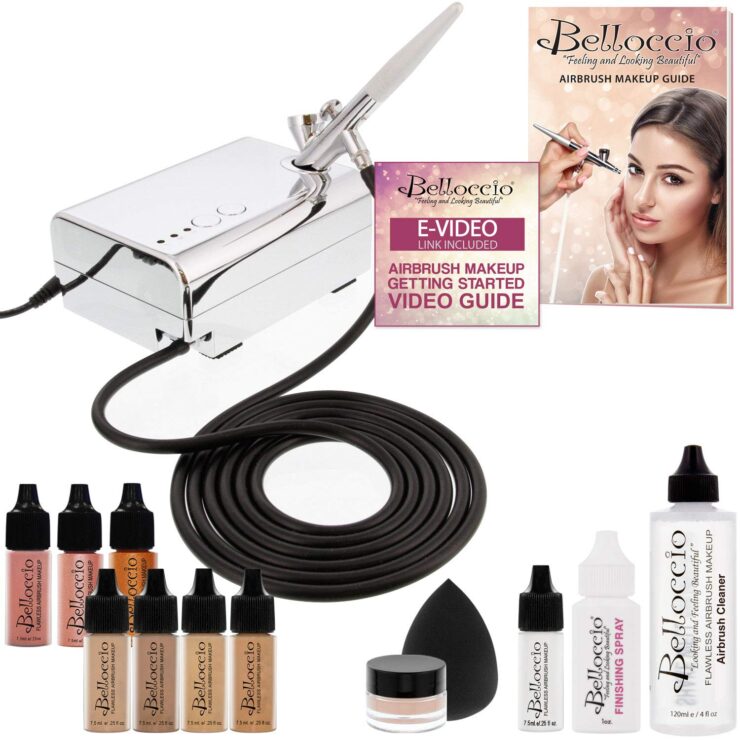 Belloccio Professional Beauty product contains a cosmetic airbrush and compressor system with high precision and 3 different airflow settings. There are 4 different color shades as well, so you can have a perfectly matching finish. You are also getting bottles with blush, moisturizing primer with anti-age properties, shimmer, airbrush cleaner, and bronzer. Users would probably be delighted for getting 3 extra items that come under the price of the Belloccio airbrush system, so aside from the makeup system, you will also get a bottle of Belloccio setting spray and airbrush finish, medium shade concealer and an egg-shaped sponge to apply the concealer. To get to know the functionality of the product, you are also getting a makeup guide on how to use the Belloccio airbrush system for flawless skin, while you may also access a video tutorial created to maximize the positive user experience. 
4. Dinair Airbrush Makeup Starter Kit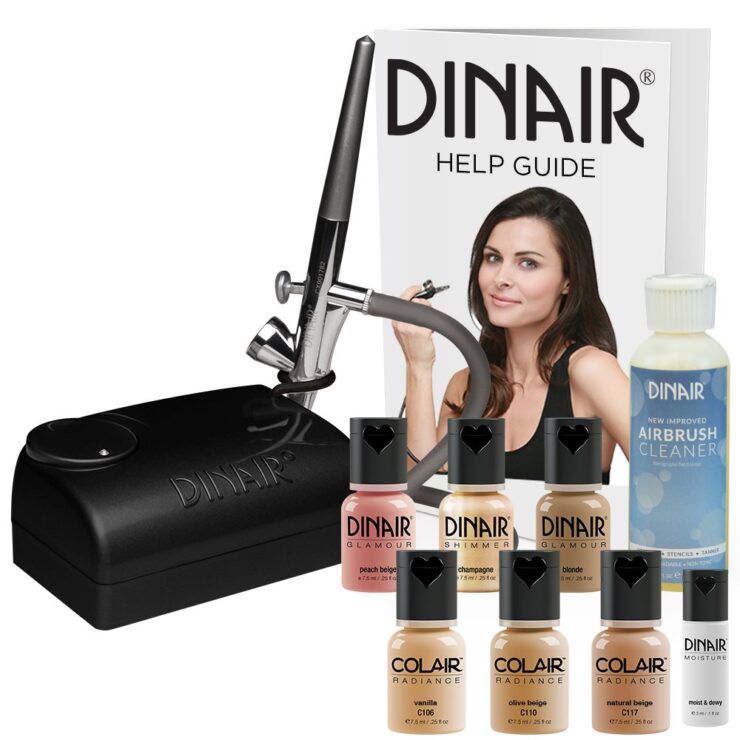 Suitable for beginners and easy as a piece of cake for more experienced fans of airbrush makeup, this product comes with 3 shades of fair tone foundation, including natural beige, vanilla, and olive beige, 3 different multi-purpose shades, and natural facial moisturizer. The product comes with one airbrush cleaner solution and cleaning system, compressor, CX Pro airbrush with continuous flow, while users are also getting a one-year warranty. The makeup solution is free of silicone, parabens and other harmful substances, created to provide a smooth experience for healthy-looking glowing skin. Thanks to the super-fine disbursement, your look is flawless and your coverage undetectable. 
5. Luminess Air Basic Airbrush System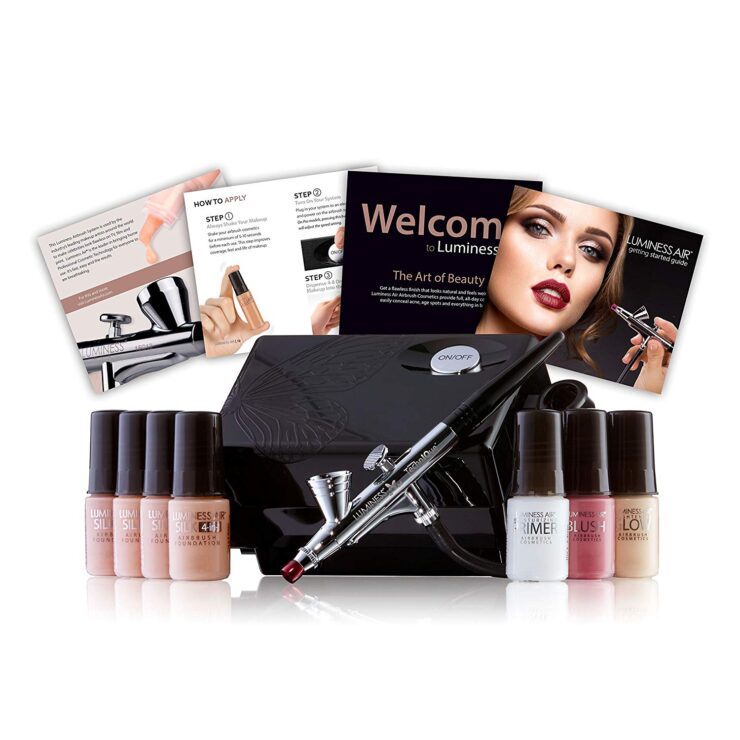 Portability and durability may as well be synonyms for Luminess Air Basic, as this airbrush system allows for perfect coverage, making your skin photoshoot-ready and flawless, and your coverage undetectable for a natural look. You can use the product for easy and care-free application of eyeshadow, blush, foundation, shimmer, primers, skincare and more, utilizing a specially designed Luminess air foundation, created to target and cover skin imperfections such as acne, blemishes, redness and other "flaws" you want to address for a perfect look. Thanks to the Luminess technology, coverage and makeup are easily applied for a natural-looking skin and magazine-cover look. 
6. Mineral Air Complexion Starter Kit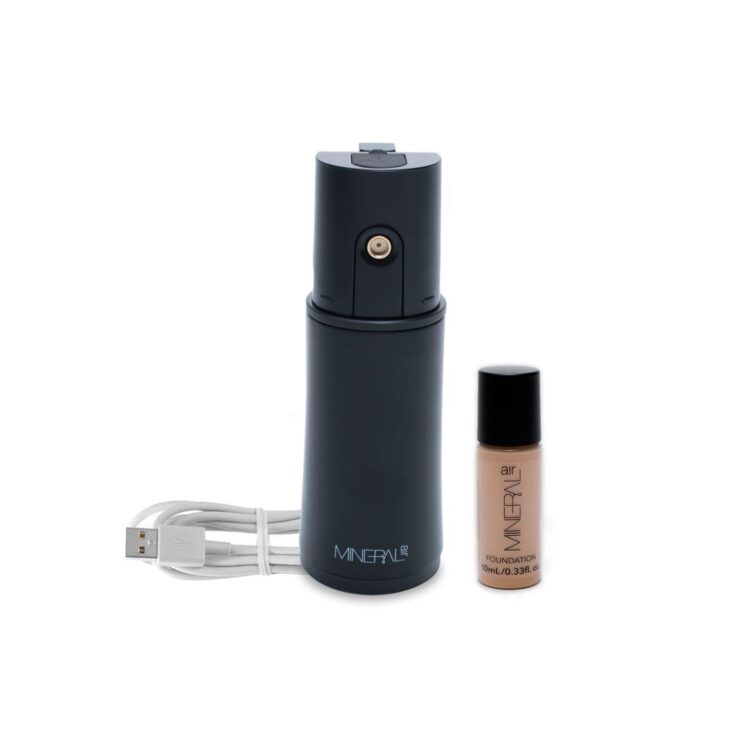 Mineral Air Complexion Starter Kit has a 4-in-1 mineral-based formula that combines hydration, pigment, concealer and primer formula for a natural look and healthy-looking skin glow. The device for applying the foundation is easy to use and easy to charge, created to be portable for maximal satisfaction and availability – anywhere you go, you can take your starter kit and get ready in only a couple of seconds for any occasion you can imagine. The device has a one-touch settings system, making the airbrush simple to use and even easier to clean. The foundation is designed to work benevolently on your skin, also covering blemishes, freckles, acne, and other skin imperfections. In only 30 seconds, you can easily apply the foundation by shaking the foundation bottle to mix up, filling the device and pressing the one-touch control to release the mist for a seamless makeup experience. 
Flawless and healthy skin dreams can be achieved in a matter of seconds with the right product, so feel free to compare airbrush products and choose the one you believe would fit your needs and match your skin tone for undetectable makeup application.