The woman behind Pearl Daisy was recently in the city-state for her very first meet and greet here – and the crowd was massive.
The event officially began at 2.30pm on January 11th, but diehard fans of Amenakin, the effervescent fashion and lifestyle guru of the Muslimah world, started dropping in an hour ahead of time. The trickle of people quickly turned into a vibrant stream of women resplendent in their fancy clothing, colorful veils, shiny head accessories and bright smiles.
It soon became obvious that the crowd was swelling too fast, and it was not even 30 minutes to showtime. In true Singaporean fashion, a line was formed. For those who don't know, our (dubious?) penchant for queuing up is considered a national pastime but seldom do our excuses seem to justify the means – unlike this time. After all, this was Amenakin's first time meeting her fans in this tiny republic. The size of the country seemed to have zero bearings on the size of the turnout, however. If you were there, you may have noticed that even the holding area failed to live up to its name.
Such is the Amenakin effect. She just makes people happy
At the stroke of two-thirty, the floor was opened and guests were treated to a mini high tea buffet. We were blown away. Many times more people than we had catered for arrived. Thankfully, our event partners Anggun Serina, Doll Me Up, Haney handbags, Lulu Alhadad, My Happy Prayer Place and Peachy Pixx Productions were around to keep things interesting for our very patient guests.
At 315pm, there was a quiet flurry in the middle of the room and out of seemingly nowhere (it was that crowded), Amenakin appeared in a bright salmon dress with asymmetrical sleeves, and smiles became bigger and wider all around. Such is the Amenakin effect. She just makes people happy.
Once the buzz had died down, Amenakin showed us two ways of wearing the hoojab – a hooded scarf, a trademark of hers and an exclusive product of Pearl Daisy. In her honest and warm style, the affable host also shared with her endearing fans how she manages her time between family and business. A lot of love was exchanged in that function room before a photo session ensued. There was another event booked at the same venue, though, so the photo-taking session had to be moved twice to accommodate everyone. Amenakin stayed for more than an hour beyond schedule. How not to love this woman?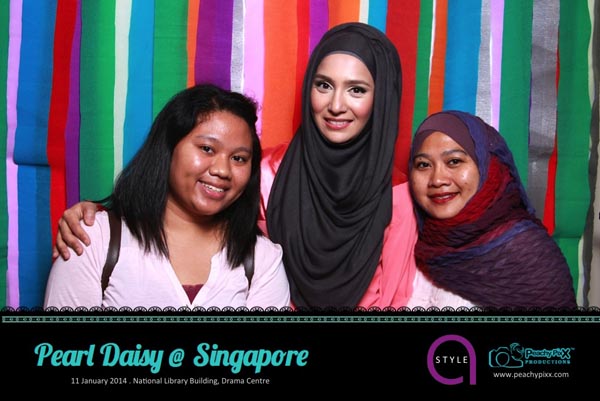 In her thank-you speech, Amenakin said "Saya sayang Singapore", which means: "I love Singapore."
And the guests responded with, "We love Pearl Daisy".
Until next time!