The kitchen is the heart of every house, so it makes perfect sense to have a deep urge to make it a dream place to share wonderful moments with families and friends, especially for Muslims! This is why it is so important to have a beautiful and practical kitchen. Irrespective of the type of kitchen design, organization and layout are major components. Here some of the tips for decorating a Muslim kitchen.
1. Dwell into Dark Kitchen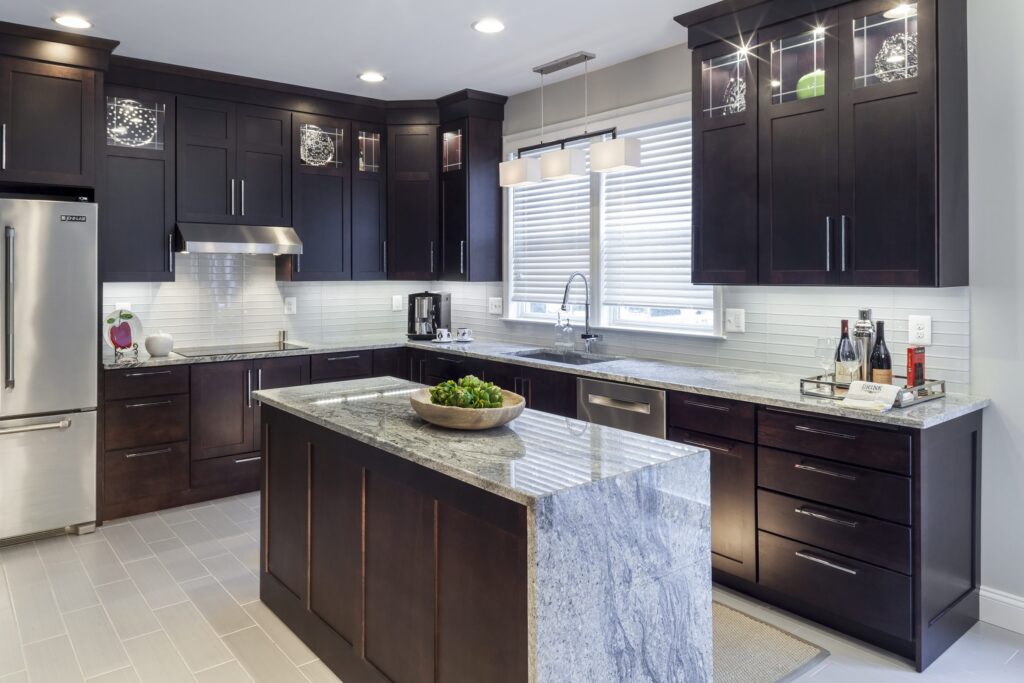 Nowadays, one of several favorite trends for 2023 is the dark color palette, featuring fewer primary colors and more focus on black. The dark palette brings an exquisite sense of drama to every house! You can blend and contrast dark colors with blue, green, taupe and beige colors. Normally, many Muslims favor brown to black because of their neutral color preference.
Brown presents comfort and is rather desirable, whereas the color of black is related to funerals and death. However, you always have your own choices. One of my favorite variations is dark gray and natural wood since it is sleek, modern and brings warmth to space. Natural wood allows us to humanize and soften space, providing a great balance with the dark color.
Bonus tip: You should add plants to your kitchen as well. It helps to humanize spaces.
2. Everything Matte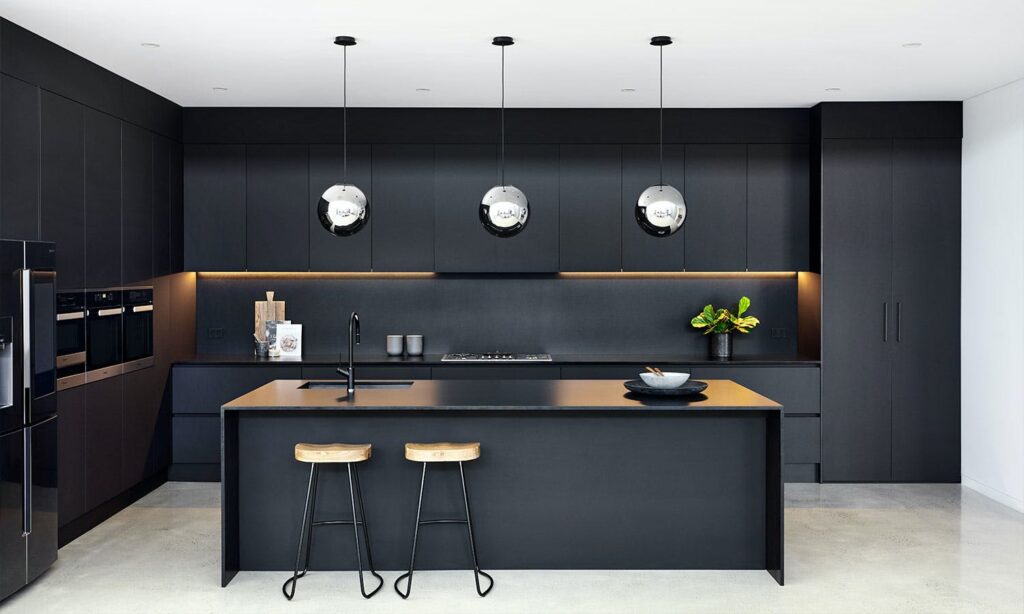 Who's not in love with the smooth touch of matte designs? The industry is full of matt cabinets, appliances and info. It's great for kitchens and it's easier to keep tidy. Equipment is the simplest thing you can alter in your kitchen, so take a chance and try anything elegant and new. Details will also come with a matte finish: light displays, buttons, faucets, accessories and sinks.
3. Add Colors
Matte and black is indeed very beautiful but not every kitchen owner is fond of it. If you have a colorful personality, spice up your kitchen! Fresh colors like green and blue in both vibrant and light tones are a few of the best choices. These resonate a cool feeling in your kitchen and show a beautiful contrast with wood and metals like gold. This is the reason why it is one of the most used combinations.
One good thing is that you don't have to tire yourself and pain all the cabinets. Just combine cabinets in neutral colors and with an island painted with, let's say forest green or light blue. You can also opt to paint your upper cabinets with plain white and lower cabinets with rich colors. It is very subtle yet a very great way to show the color of your personality. You can choose from tons of tones and what you choose will solely depend on your taste and preference, and the décor of the adjacent spaces.
4. Open Shelving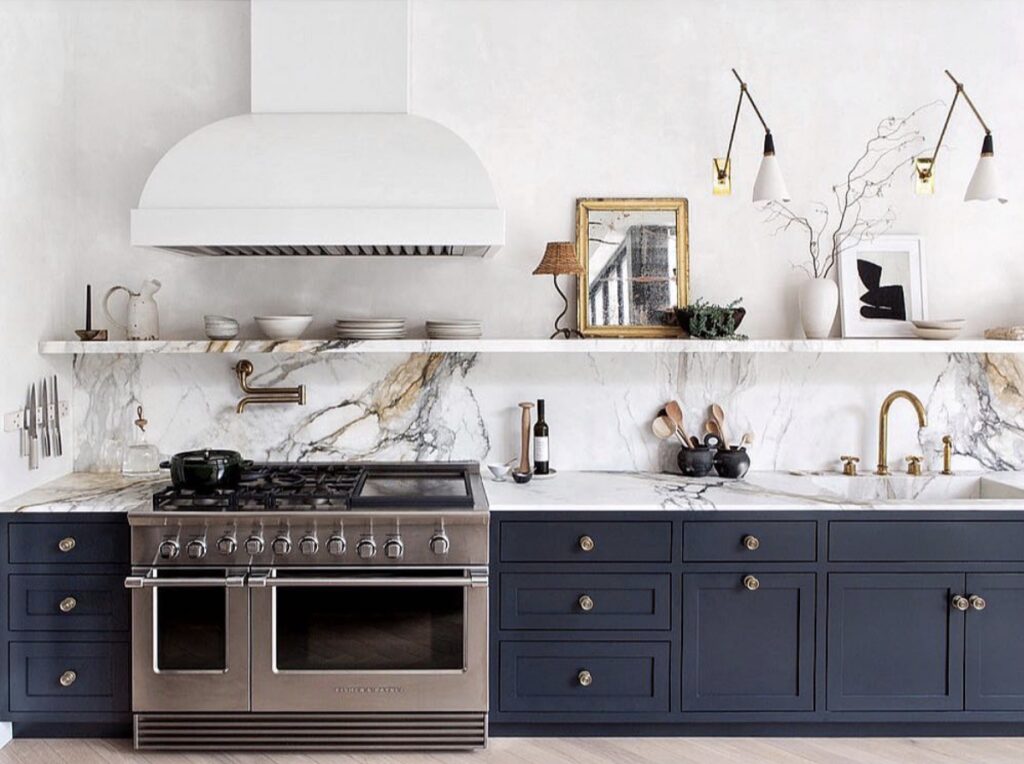 Let's customize the kitchen! Open shelving and glass-fronted shelves allow the owners to highlight their personality with creative and imaginative kitchen and dining room displays. You need to show your style! You can mix beauty and function in your design. In order to add color and texture, you can put cups, vases filled with pasta or rice, recipe books, plants, and wooden pieces. Also, if you are the type that doesn't have open shelving because you don't like to flaunt the entire content of your cabinet, you can always opt to use textured glass. This is also a good way to add a wonderful layer of texture to your kitchen and it's a great tool to mix it up with the straight lines of the cabinets, that adds to the visual and personal touch of a contemporary kitchen.
5. Counter and backsplash.
A marble that's high in contrast with dark shades is everlasting and beautiful. Splashbacks or backsplash are no longer considered to just being a practical detail. Today, developers are using this to create real areas of focus in the kitchen. Use lighting to define and create an accent into your kitchen. Take into consideration the use of the same material for countertops and the backsplash for a modern and clean-looking kitchen. You should have textures that contrast with neutral cabinets.
The same light you use will also be a fundamental part of the kitchen's functionality as it will illuminate the countertop. It is a very high functional area that needs enough light for tasks to be more efficient.
On the other hand, you can also use tiles in colors or shapes that shatters the kitchen's monophony. It is also a very effective way to create a focal point for your visitors to look at.
Bonus tip: Mixing again beauty and function, they can offer practical cleaning benefits as grouting between tiles can be difficult to keep clean.
6. Special and unique sinks!
"Details are not just details. They make the design", says American Designer Charles Eames. Bid farewell to all of the common sinks and say hello to contemporary styles and designs. These details must be selected in harmony with your cabinet's color, flooring, countertop, and of course, the kitchen style per se. You can use metal detail that can give a sophisticated and authentic touch to the spaces.
These do not necessarily need to be matched with each other, but combining cool metals and warm material can give contrast to the space making your design more interesting. You can use a matte black faucet with handles that are gold brushed. However, it is very important to note that you select a dominant and secondary metal and use them all throughout your kitchen in equal proportions.
This creates a more cohesive design and atmosphere. It also creates rhythm and makes our eyes connect and group all the elements of similar materials and make the brain perceive the space as a unity. Try a gold sink or a multifunctional sink. Today, farmhouse sinks are in trend because they're durable but they also add a rustic personality to your space. Farmhouse sinks are both functional and beautiful, so it's no surprise that it's getting a lot of attention. For a wide selection of farmhouse sinks, you can visit annieandoak.com.