There's nothing quite like a herd of hijabis behaving horrendously to start a debate amongst Muslims, writes Ameera Al Hakawati. But maybe it's time "modern" Muslimahs realize they need to turn it down a notch.
I will confess that I had no idea who Adam Saleh – one half of the TrueStoryASA duo – was until my little sister asked me to take her to London's Hyde Park on Sunday to 'meet' him.
This was the first time I'd seen her express interest in a male celebrity, so like any concerned older sibling, I wanted to find out more about the dude who had her – and thousands of other Muslim girls – all doe-eyed and blushing.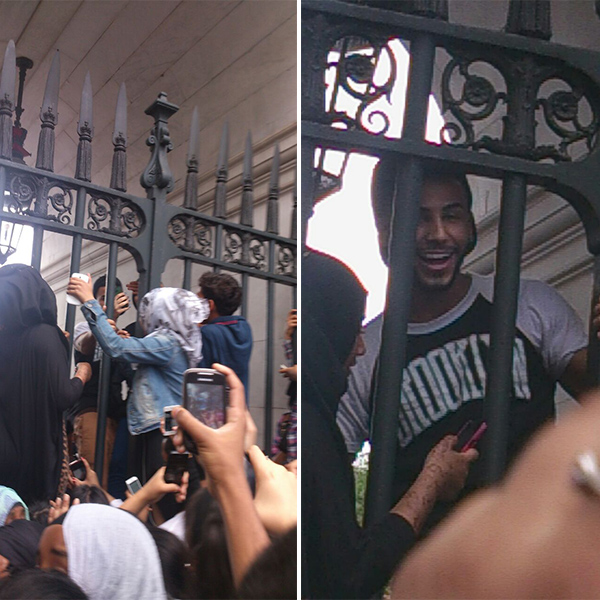 After watching videos of the Yemeni/New Yorker and his sidekick, Bengali Sheikh Akbar, playing (quite amusing) pranks on New Yorkers, I could see why teenage girls found him attractive. The 21-year-old seemed harmless enough, I decided, for my sister to attend a meet-up that Adam had announced on his Twitter account. (Plus, my mum offered to babysit and an afternoon soaking up the sun in Central London was too tempting a proposition to resist.)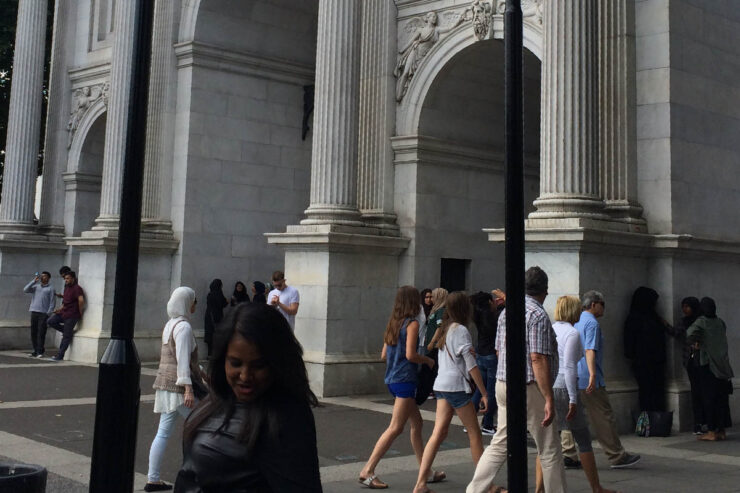 The meet-up was scheduled for 3:00 pm, but my little sister forced us to get there early so we wouldn't be at the back of the queue. Strolling into the park at 1:45 pm by Marble Arch, we saw clusters of young girls, many in hijab, eating ice cream and waiting in eager anticipation. Some had been there since 9:00 am, assuming that the setup would be similar to his Dubai meet-up. But there wasn't a queue, barrier or podium in sight.
As 3:00 pm drew closer, the area of the park closest to the arch began to fill up. And while there hadn't been more than 50 girls when we first arrived, now there were hundreds of teenagers bouncing around, each and everyone anxious to marry Adam – or, at the very least, get a selfie with him. There were even quite a few adolescent boys lurking in the corners, trying to act aloof and indifferent.
I wondered how the crowd was going to be managed – but then, these were Muslim girls. It wasn't a football match, so how bad could it get?
After a few false alarms, with someone screaming and pointing "ADAM!!!" causing hordes of girls to run in that direction – even running across roads with oncoming traffic – I decided to leave my sister with her friends and meet her afterward. I was much too old for this malarkey.
As I walked away from the crowds, I saw Adam in the distance with a couple of other people walking towards the arch. Seconds later, he was spotted by fans. All you could hear were screams and thuds as a stampede of women swarmed him, almost knocking him off his feet. The shrieking, shoving, pulling, grabbing, yanking and clawing created hysteria bordering on horrific.
One fan pulled his baseball cap off and another grabbed his hair, and that was it. The mob had completely surrounded him. He had nowhere to go, his words inaudible over the shrieks of hysterical hijabis. Scarves were being torn off heads as girls desperately tried to grab a piece of him.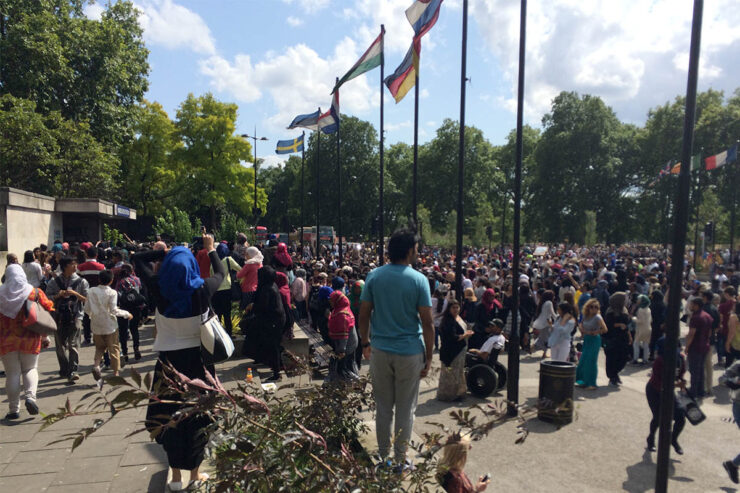 When he somehow managed to disentangle himself from the mob, he began to climb the gate of Marble Arch like Spiderman – maybe for his own safety, perhaps to get a better view, possibly to let everyone see him clearly. Whatever his reasons, it didn't stop the sprightly teenagers who simply started climbing right up after him.
And then came the welcome song of sirens as a police car drew up and extricated poor Adam from the scene. Disappointed, the fans slowly dispersed and consoled themselves with pictures of Sheikh Akbar instead. And one girl (again, in hijab) kindly massaged Sheikh's shoulders while he took pictures.
Now, I'm all up for having a good time. Anyone who's read my novel Desperate in Dubai will know that I'm not the primmest and proper hijabi in the hood. But watching the scene as a spectator was particularly eye-opening. The last time I'd witnessed something similar was at Masjid al-Haram with hordes of Muslims trying to reach the black stone. The realization that these girls are the Muslimahs of tomorrow was not only saddening but also scary.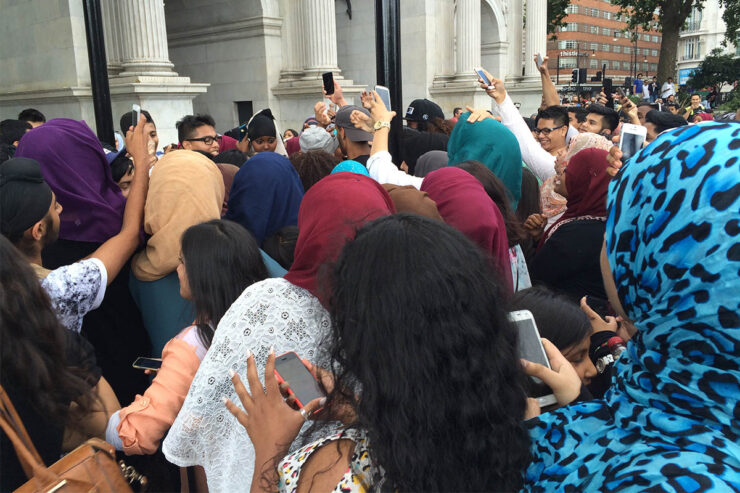 What has happened to us?
The issue is no longer about Muslim girls wearing revealing clothes. It's not about wearing hijab with skinny jeans (actually, scratch that – I saw a hijabi in a sleeveless vest there and one with a knee-length split up the side of her skirt). It's not about wearing too much makeup, listening to music, or wearing a scarf with a fringe hanging out. It's not about the exterior, the superficial.
It's about conduct. Dignity. Self-respect. Since when is it okay for any decent, respectable human society to swarm a boy, pull his hat off and grab his hair? There was a time when the image of a woman in a hijab was synonymous with all three. Today, in our haste to become trendy, in our eagerness to fit in and because of our fear of seeming judgmental, we sit back and watch our younger sisters behaving like a bunch of depraved lunatics.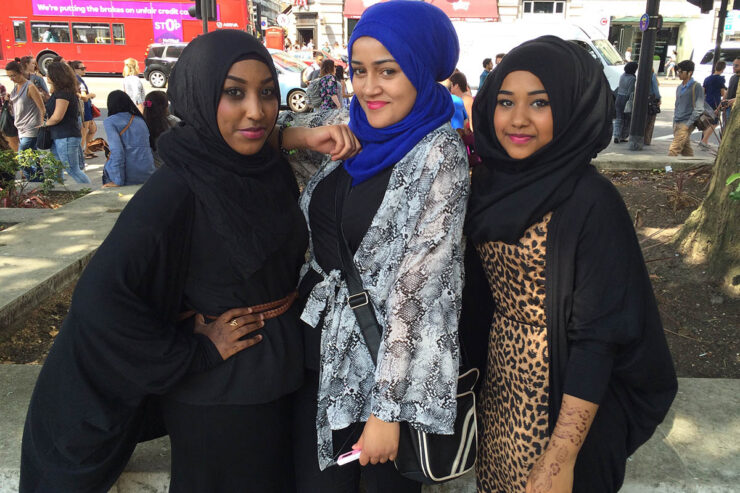 I have no issues with Muslim girls wanting to meet a male pseudo-celebrity. I even took my sister. It's not about that. It's about the way they behaved, like starving orphans with a morsel of meat dangled in front of them. Did I say doe-eyed and blushing earlier? Some of them were, especially the lovely ones I met (see group photos in the gallery). But most of these girls could give football hooligans a run (and climb) for their money.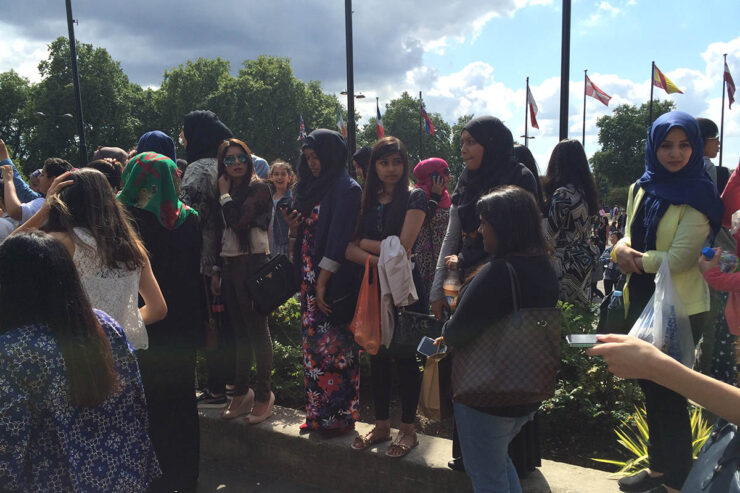 It didn't end there either. Twitter and Instagram have been abuzz with the topic of Adam Saleh, with some girls (yes, in hijab) declaring that they got to kiss Adam with unconcealed and unabashed pride. The "haram police" had an absolute field day, with some likening Adam to Dajjal. Not cool. But then some of their comments – such as questioning the integrity of these Muslimahs – were spot on.
Poor Adam took it in stride, though.
As bewildered as he obviously was, he kept his cool and managed to keep his fans happy, even tweeting about another impromptu meet-up after he left the police station (the tweet was wisely deleted soon after). According to police, he was not arrested, though they did provide "advice regarding organizing large-scale events".
And as for his fans? I have no solution to what is clearly something fundamentally wrong with our society. Is it a lack of role models? Is it just the fact that 2014 has posted too many challenges and temptations? Is it globalization and the rise of social media? This big sister would be interested to know what you think.