Azu Nwagbogu sits in a futuristic, almond-green armchair created by a young Nigerian designer in his Lagos home, surrounded by hundreds of books and dozens of photographs from floor to ceiling.
Nwagbogu is the founder of LagosPhoto, an annual festival started five years ago that has since become one of the biggest photography festivals in Africa.
Since its inception, it has tried to reflect the reality of life on the continent through the eyes of Africans, rather than just photographers from elsewhere in the world.
This year organizers have turned to the realm of fantasy and fiction, to encourage artists to go beyond showing just the realities of daily life and worries about basic necessities.
"The aim is to give Africa, Nigeria, Lagos — the city (and) its people —  a voice. We want people to be able to tell their stories," he said.
"And beyond that, we want that to be an equal playing field for local and international guys to show their work here, in a world-class standard."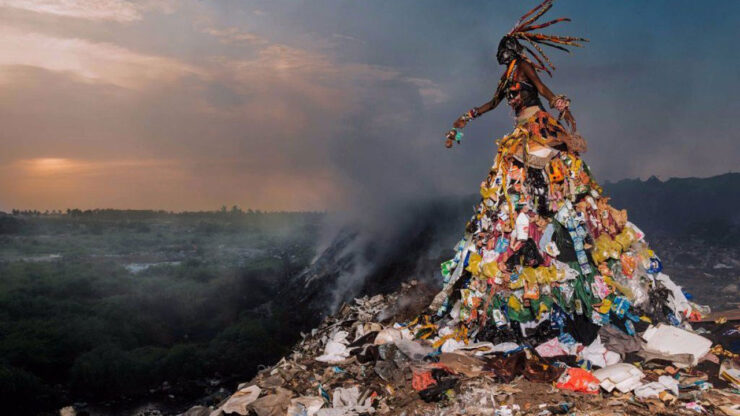 House-maids to the super-rich
Photos on vast canvasses held up by bamboo line the paths of Freedom Park, a former colonial-era prison turned cultural center and green space, nestled among the skyscrapers of downtown Lagos.
Similar prints are displayed in art galleries, a luxury hotel and a fashion boutique in Nigeria's economic capital.
At the Eko Hotel, in the upmarket Victoria Island area, Mary Sibande is displaying her work "Long Live the Dead Queen", a series of photos featuring a female protagonist called Sophie.
Sophie, a voluptuous black woman in a majestic blue Victorian dress and a housemaid's starched white apron, is shown in fantastical images with grand accessories.
For the South African artist — whose female relatives all worked in service for three generations — the work is a way to ask questions about the role of women in African society.
In Freedom Park, the French photographer Patrick Willocq uses the young women from the Ekonda pygmy tribe in the Democratic Republic of Congo for a wry look at initiation ceremonies.
Several Nigerians photographers are among the 40 artists exhibiting this year.
Ade Adekola explores the myth of reincarnation in the Yoruba culture of the southwest.
Jide Odukoya portrays the life of Africa's super-rich, documenting discarded boxes of brandy, dancefloors strewn with naira notes and young men in bespoke suits brandishing $100 bills.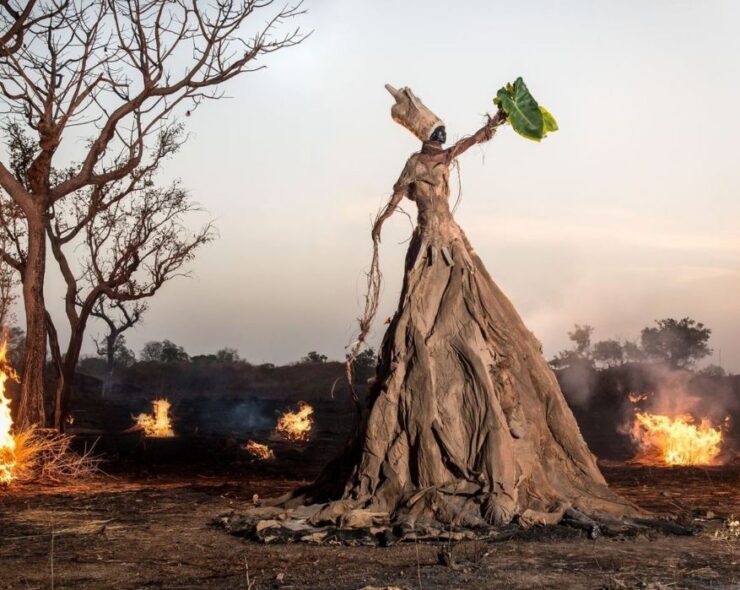 An artistic medium for all
For Nwagbogu, who set up the African Artists' Foundation, African story-telling through African eyes is a key driver of the festival that first began in 2010.
"The history we've been taught about Africa is so false. The way we've come to accept ourselves as Africans are so bastardized through popular media," he explained.
"It's time for us to take charge of our own narrative… and to understand that we can tell our own stories and we have the ability on an equal footing with the rest of the world."
In debates and workshops, young Nigerians have been encouraged to study the exhibits and exchange photos to develop a more critical eye on their own daily life.
"The goal is to keep reclaiming the contemporary visual culture, to tell our own stories and to empower more people," Nwagbogu said.
"Photography is the most powerful (medium) because everyone can do it, everyone can get involved."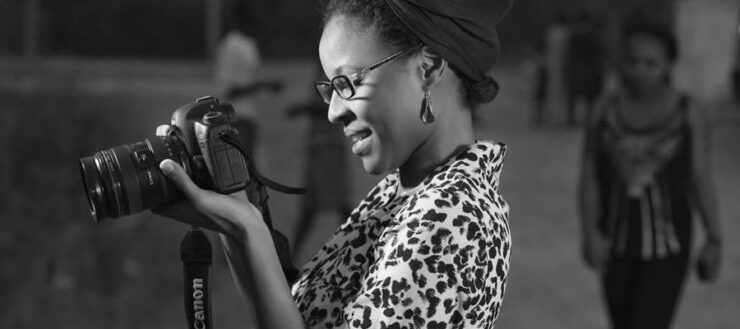 Electricity and urban wildlife
LagosPhoto is also a chance to plunge major foreign photographers into the chaos of Lagos life and to capture their take on the fascinating megacity of nearly 20 million people.
Dutch photographer Hans Wilschut, a self-confessed Lagos addict who has shot in the city half a dozen times, was one of the exhibitors last year.
This time round, he is exhibiting "When Light Shines in the Dark, the Darkness is Uncomprehending", a series of shots from a working-class Lagos suburb receiving electricity for the first time.
The scenes of daily life, printed on plexiglass, have an abstract and supernatural feel as natural light shines through — an imagining of social change through the surrounding environment.
British photographer Martin Parr, known for his satirical take on tourists around the world, was guest of honor at the festival last year.
During that time he took a range of urban wildlife shot from the back of his car while stuck in traffic jams.
By Cecile de Comarmond