She rose above words and imagination, viewing the ordinary with a new eye to create eternal pieces of Islamic art. To commemorate the second anniversary of Agha Lubna's passing, Najwa Abdullah speaks to her husband Yusuf about her inspiring life.
Born in 1949 in Quetta, Pakistan, Lubna Agha was an accomplished realist whose works are widely celebrated as part of a revolutionary Islamic art movement in both figurative and non-figurative abstracts. As a precocious preteen, she had shown a sharp artistic bend and enrolled as a full-time student at Karachi School of Art, where she soon started winning competitions and gold medals.
In her initial years in the art world, Lubna was impressed by the works of modern masters abroad and moved quickly to the pure abstract with great success at an early age. At the age of 22, she sent ripples through the Pakistani art world by becoming the first female artist to hold a solo show of abstract paintings at the prestigious Arts Council.
She extended her education at Sacramento State University in California and continued to live the latter half of her life with her husband near Boston, with solo and group shows in Pakistan, the UK, and the US.
Her husband Yusuf recalls those days. "Her early works in the 80s in the US were abstract figurative, exploiting her techniques as an accomplished realist, but with different strokes adapted to her artistic message. This phase of her work was a response to major political and social themes of the day."
Yusuf describes Lubna as a beacon of light for the art world as well as her family. "In each arena of her multifarious life, from every day to the sublime, she strove for perfection. And each of us – family, friend, critic and colleagues – who basked a while in the glow of her existence found ourselves overwhelmed by both her creativity and sincerity."
Throughout her artistic career, she stepped into the world of cultural, social and religious myths and put them all together in one frame – in an exceptional way. As with most artists, Lubna's style underwent several transformations as her career unfolded and she encountered new influences.
In 2004, Lubna and Yusuf visited Morocco and Turkey, where she gathered hundreds of photos of historical remains: ageless architecture, artifacts, manuscripts, and motifs. Her later works depicted her discoveries in the two countries. She described traditional Islamic art and artifacts as not only irreplaceable beauty but also an important historical discourse on the issues of identity and culture.
"She was inspired by the painstaking meditative precision of the Muslim artisan; their patient repetitive strokes almost like a believer's chant in prayer," says Yusuf. "It was this method that she emulated in her paintings on wood and canvas. Several were large works painstakingly produced over months of devoted effort."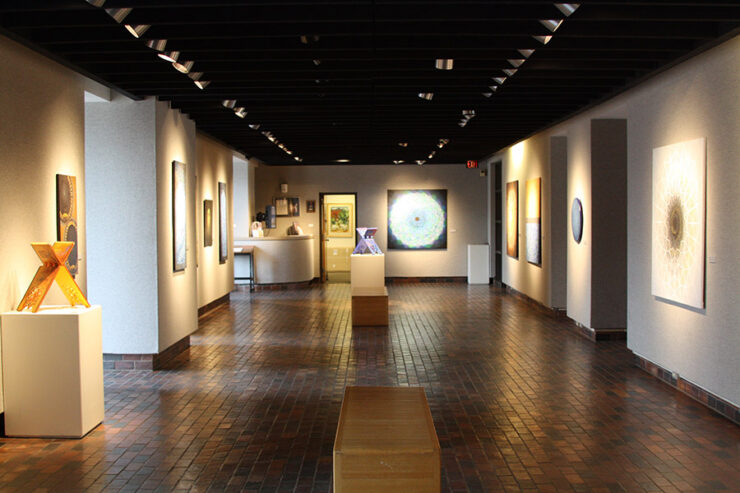 Lubna's works were not constrained by the rigid constructions of tradition. This allowed her to not only capture the picturesque qualities of traditional architecture and artifacts in her painting but also add new meaning and intimacy by what she called "the esoteric and meditative quality of Islamic art". She also brought modernity to paintings by invigorating them with bright colors such as red, orange and gold, and sometimes contrasted them with calming colors like green and blue. With this unusual signature combination, a viewer may feel a stirring to the soul and spirit.
The spiritual aspect of her art is very pronounced in both her figurative and non-figurative works. A Sufi in thought and practice, Lubna always pursued the "absolute truth" in her endeavors. According to Yusuf, she was mesmerized by what she termed the "two contradictory themes of Infinity and Oneness" in the Creator.
In February 2012, a solo exhibition at the Gardiner Art Gallery featured her more recent Islamic-inspired works.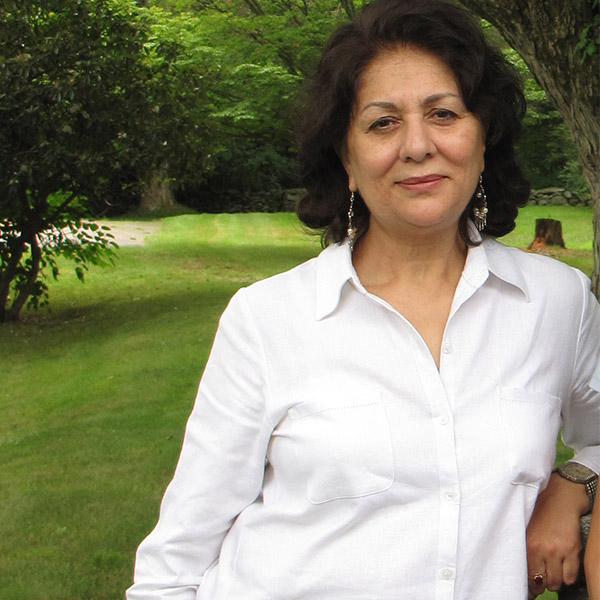 Sadly, it was to be her final exhibition. Just a few months later on May 6th, the art world lost one of its major exponents of modern Islamic art so early. At the age of 63, Lubna passed away after a courageous battle with cancer, surrounded by her family in a room filled with her art.
"Till the end of her life, she painted intricate Islamic motifs for hours each day," recounts Yusuf.
"Motifs that she recreated from her own perspective – abstract and beautiful."
Learn more about Lubna Agha at her website