Meet this heavy metal band that rocks not just the house, but also the heart. By Afia R Fitriati.
Their music is hard-hitting. Their members are clad in black. Their look is dark and intense. But behind the fierce façade of this Malaysian band and its spirited compositions, a discerning listener will find messages of Islamic spirituality.
Meet Al Farabi, a five-piece heavy metal band composed of lead guitarist Nazri Alias, vocalist Nasaie Nawawi, guitarist Kamarul Borhan, drummer Adie Wady Ahmad and Rina Ghazali on bass.
The band's name was inspired by Abu Nasr Al-Farabi, a prominent philosopher, scientist and music theorist of the Islamic Golden Age who is also said to have been an accomplished oud player.
Other than their name, indicators of Al Farabi's Islamic undertone include the turbans on the men's heads and hijab on Rina's, who is the only female member of the group.
Describing their genre as progressive metal, the band sheds light on the content of their songs, the words of which are not always easy to decipher. "Our music is energetic music and the message we carry in our lyrics is about motivation, strength and the struggle in spreading the good deeds of our Prophet Muhammad and his companions."
Nazri, the band's leader, is often quoted as describing the band's sound as "music that fires up the soul, as opposed to pacifying the soul".
They released their debut album, Radiasi 1400, in 2011. Since then the band has released a second to the delight of its growing fanbase. Their live performances draw people of various age groups and backgrounds, many of whom collect the band's CDs and merchandise.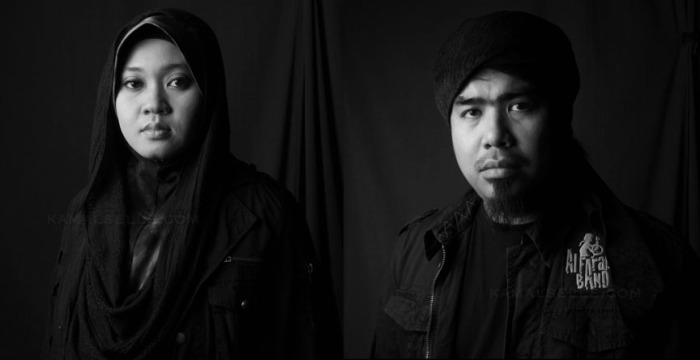 "It's a great moment for us when our fans come [to our concerts] from all backgrounds, from metalheads to rockers and even ustaz and ustazah. And the most memorable experiences are when we see they've changed to be positive people after listening to our music and being close to us."
The band members don't deny that they've got their share of critics on various fronts. But rather than addressing such criticism directly, Al Farabi says that they prefer "doing rather than arguing". They add, "We will invite them to meet and get to know us from up close so they will understand our mission and method in using music to spread dawah and promote a positive attitude."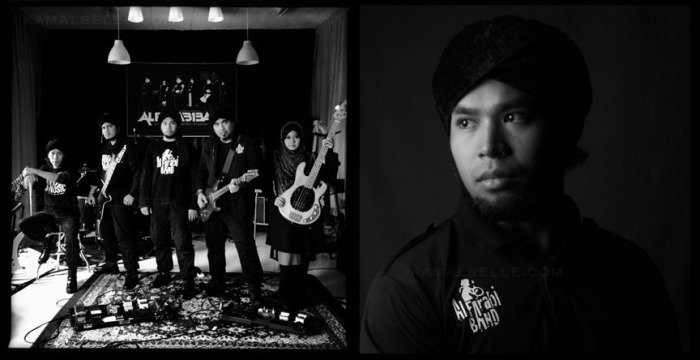 Although the band's current audience lies mainly in Malaysia, Al Farabi's appeal may soon reach beyond the borders of their home country. Their second album, World New Ethnic, features half of its songs sung in English.
The band's mission extends beyond creating inspiring messages alongside thrashing music. The trailblazing group has in the past organized Al Farabi Battle of the Bands, a platform that provides new and emerging Muslim musicians an opportunity to showcase their talents. In the event, participants are required to perform songs with messages that are in line with Islamic values such as love, divinity and humanity. In the future, the band also plans to establish an Islamic music academy.
It is little surprise that they define their proudest achievement as the creation of "a new environment and phenomenon in the music industry". Though they may not play the oud as he did, Abu Nasr Al-Farabi would be proud of his musical namesake if he were alive today.
Visit the band's Facebook page for more