YazTheSpaz and her new husband Zeyad return to their roots for the honeymoon holiday of a lifetime.
After my dream wedding it would have been wonderful to immediately head off on our dream honeymoon. Reality had to depart from fantasy, however. We spent a month planning and prepping, and getting back on track after all the festivities. It worked out well, I have to say, for that meant our trip began with no clouds in the sky to mar our honeyed moon.
Our trip began with a 14-hour stopover in Turkey, which we used to tour the Sultan Ahmet area in Istanbul, check out the view from the Galata tower, eat, shop, and even find the time to relax and play backgammon in a café. After the game, while we were enjoying the view, some of the local girls came to inspect a sight of their own: me! It was a humbling experience and once again impressed upon me how we're all bound together in such a rich tapestry. If you are reading this, ladies, thank you for coming up to me. You made my day!
Our Egyptian Adventure
After Turkey we flew to Egypt. And wow, was that ever an experience! We started off by meeting Zeyad's whole family, who were wonderfully kind and hospitable. They welcomed me with open arms and fed me immense amounts of food.
They did many of their meals up with tons of butter and delicious spices, and I got to sample some things I'd never tried before like rabbit and pigeon; all oh-so-wonderful.
And the juices! It was a joy to go around town sampling the many different flavours. We drank asab (sugar cane juice), manga (fresh mango juice), and sobia (which I believe means 'Do you taste coconut? I taste coconut. And is that milk?'). How I only gained two pounds will forever be a mystery to me.
After a week and a half with the family and exploring Alexandria, we then went off on our 'official' honeymoon – destination: Sharm El Sheikh, which lies between the Mediterranean and the Red Sea. We stayed at the Hilton Sharks Bay which has a view so glorious it might make you faint, and staff so attentive (not to mention generous and kind), that they'd be sure to catch you if you did!
As we were in the mood for some solitude and together time, Zeyad took me to a special area called Ras Mohammad, where we could swim, snorkel and tan. What's so special about Ras Mohammad is the coral cliff that actually plunges into the deep dark Red Sea, where you can see every sea creature you can imagine, like sharks, barracudas and eels, puffer fish, lion fish and rainbow fish. We even saw baby stingrays!
The water was so clear that sometimes you just had to touch it to check if it hadn't suddenly evaporated. It felt like you were floating in air. After that we went four-wheeling through the desert, where a mouth of grit and two nostrils filled with sand quickly explained why everybody else had wrapped their faces with scarves.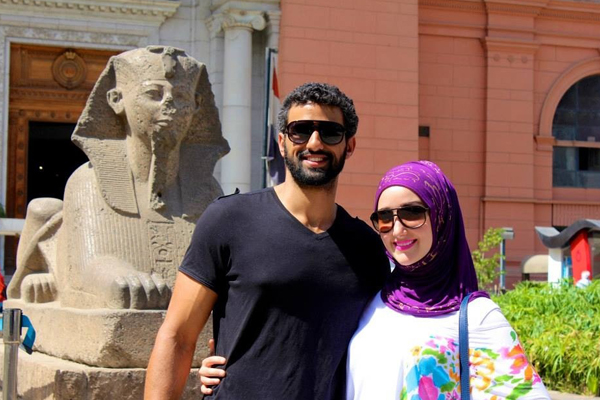 Neither of those was our craziest adventure though. That distinction belongs to our horseback riding trip, which was also when I discovered I'd married an adrenalin junkie. In hindsight, I now realise that the only thing that horseback riding in America and Egypt have in common is the name. Of course I didn't know that at the time, so when he suggested it I agreed, expecting something like back home – a guide leading you along well-trodden trails on horses so gentle that you're at more risk in a rocking chair.
Boy, was I in for a surprise! In Egypt gentle horses are for children, trails are for sissies and walking is for wimps. We went cross-country and we galloped! Well, to be more accurate, the horse galloped and I screamed and screamed. What felt like 60 mph wind gave such a rush of adrenaline. I vaguely remember screaming at Zeyad that I was never going to talk to him again, I hated him and that he could have the darned horse, marry it if he wanted to and leave me to walk back to the hotel. Of course I didn't really mean any of it – something Zeyad fortunately understood – but I was so shaken up that, if I'd still had my scarf from the four-wheeler tour, I might have tried to strangle him!
Once I'd calmed down we flew back to my father's country, Turkey. From the beginning of the trip I'd so been looking forward to the Turkish food! Unfortunately, I arrived in Turkey with a stomach virus, so I had to enjoy the food vicariously, through Zeyad. The silver lining was that however much he enjoyed the food, I wouldn't gain a gram!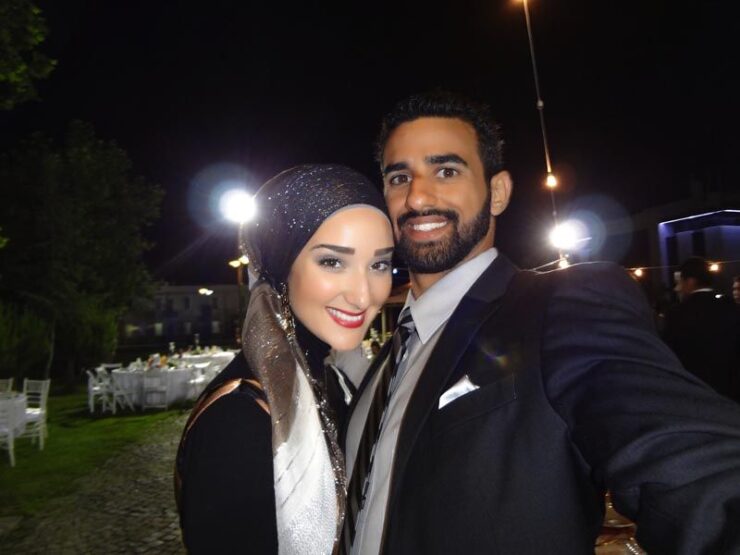 We did the tourist activities like going to the beautiful historic areas of Istanbul, which are amazing, and near the end of our stay, we attended my cousin's wedding. What an amazing feeling to know that the first two grandchildren in the family got married within a month's span! God works in mysterious ways, subhanaAllah.
Then the last days of our trip were upon us and – with that particular nostalgia of the end of a long trip – I reflected on the beautiful memories I'd gathered. I got to spend time with family, friends, and most importantly the love of my life, Zeyad. Marriage is truly a blessing and despite our official honeymoon coming to an end, the one in my head – our heads – still continues. It is just great to know you have someone by your side through the good times and the bad times too.
I hope you all enjoy the pictures I snapped during our trip. Now off to another first – Ramadan with the hubby! Ramadan Kareem, everyone! May Allah accept all of your prayers and fasting.