A Moroccan woman shows a bottle of argan oil as her colleagues crush argan tree nuts in Smimmou, near Essaouira, to make argan oil. The argan tree is unknown for many people since it grows only in southwestern Morocco, in an area covering 700,000–800,000 hectares. The argan tree produces nuts, from which a nutritious oil is extracted. The remaining is used to feed the cattle and nuts shells for heating. For centuries, Berber women of this region have produced argan oil which was used for their consumption and traditional Moroccan medicine. People abroad are more and more interested in this oil either for its cosmetic and nutritional properties. Abdelhak Senna/AFP
This uniquely Moroccan oil connects women across the world through complex social and economic relationships. But buyer beware – some sources are dubious. By Sya Taha.
Estée Lauder. Dove. L'Oréal. These brands have marketed a series of products containing argan oil, rich in vitamins E and C and often touted as a "wonder oil" to cure everything from split ends to acne. Unfortunately, these products usually contain only small amounts of argan oil.
Such advertising is often misleading since these products often contain much more of other ingredients that make hair feel smooth, such as silicones. I believe there are better forms of argan oil products and better ways to obtain them.
"Liquid gold"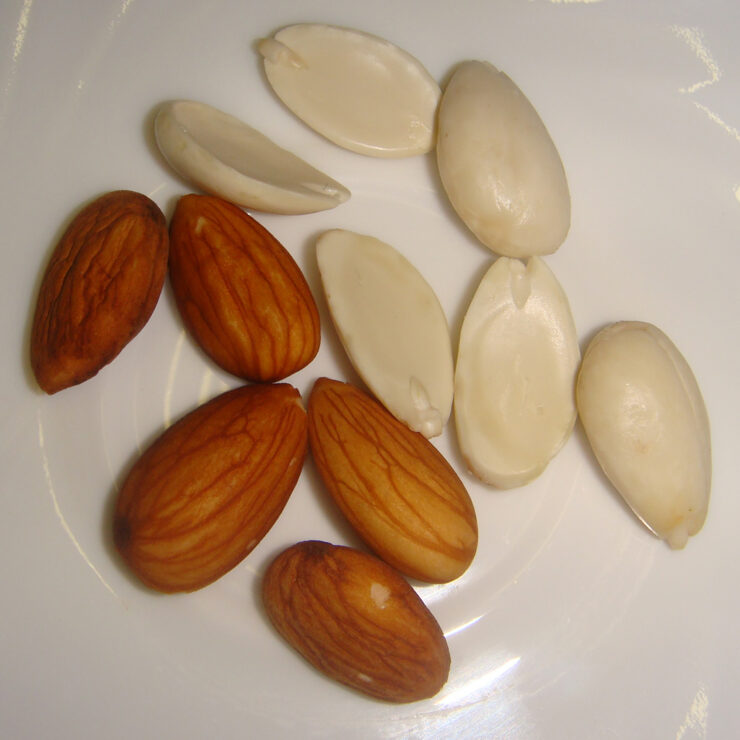 Argan oil has a strong but refined odour: a perfume that can be described as somewhere in between toasted hazelnut, almond, and sesame. In terms of appearance, it is a rich golden-brown color with highlights of amber. Outside of Morocco, where it has been a traditional food of Berber communities for centuries, not many people know that argan oil also has precious nutritional properties.
According to various scientific studies, the nutritional and dietary properties of argan oil are superior to those of extra virgin olive oil. Argan oil consists of 80 percent unsaturated fat, just like olive oil, but has more essential linoleic fatty acids (omega-6) with an anti-inflammatory effect that helps our joints, circulation and immune system, plus it supposedly aids in fertility, too. There is also preliminary evidence that it can increase insulin sensitivity and therefore, it may have an anti-diabetic effect.[i]
Edible Argan oil (pressed from toasted kernels) enhances the flavor of dishes like tagines, couscous, salad dressings, roasted vegetables and fish. A few drops on a green salad are enough to give a delicious flavor to a dish. But the simplest (and my favorite) way to eat it is as amlou, a mixture of argan oil, nuts and honey poured over a piece of bread, which makes for a nourishing breakfast.
Gold rush?
Also known as louz el-barbary or Berber almonds, the fruits of the argan tree resemble olives on the outside and almonds on the inside. The traditional and more labor-intensive method of extracting oil from the kernels involves women who dry, de-pulp, break, roast, grind, and knead the final paste.
When bought straight from the source, pure organic argan oil costs around US$200 per liter (but luckily, they are also sold in small bottles at the affordable price of around US$4 to US$8 each). It is pressed from the kernels of the Argania Spinosa plant, a thorny and evergreen tree unique to Morocco. It only grows within the Souss plain, a hot and dry 800,000 hectares in the country's southwest, extending from the coastal city of Essaouira inwards towards the high Atlas mountains.
Since 2002, the growing demand for argan oil outside of Morocco, especially by cosmetic companies, has resulted in the creation and organization of women's cooperatives by the government. These cooperatives, set up by individual women, provide employment for Berber women, offer business and literacy training, and the collective revenue helps to drive village development projects and regional tourism.
Over the last decade or so, argan oil was so popular that prices have soared internationally and locally. This rapid price increase was partly due to international demand, and partly due to the reduced supply of fruit from two or three years of drought.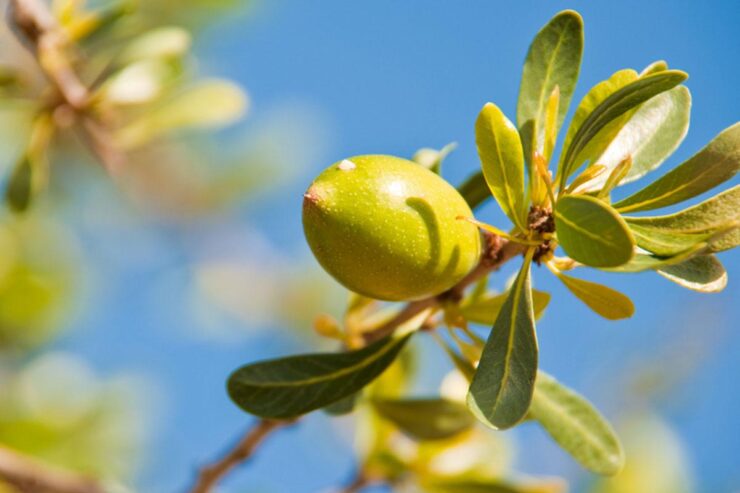 Today, in some areas, traditional methods of preparation have been replaced by modern manufacturing where machines are used to do the tasks, except crushing the nuts (which is still usually done by hand). This new method reduces the labor on women and increases the shelf life of the oil and its purity.
Faced with this international surge in demand, many women cooperatives are equipped with modern extraction equipment and have established organic production and certification processes (such as Ecocert for example), which have allowed them to gain significant access into the international market.
Today, there are more than 150 argan cooperatives all over Morocco, run almost exclusively by women. A number of organizations regulate and confirm the quality and origin of the oil, such as the Moroccan Association of Geographical Indication of Argan Oil (AMIGHA), which fulfills a function similar to the French appellation d'origine contrôllée for cheeses and other agricultural products.
Visiting a cooperative
The Women's Cooperative of Argan Oil Produced by Women of Taddart is one of the numerous organizations all over the Souss plain. This cooperative was started in 2005 as a way to provide the Berber women in this small mountain town with literacy classes and alternative ways to supplement their family incomes. On a trip to Morocco a few years ago, I had the opportunity to drop by and see how this cooperative worked.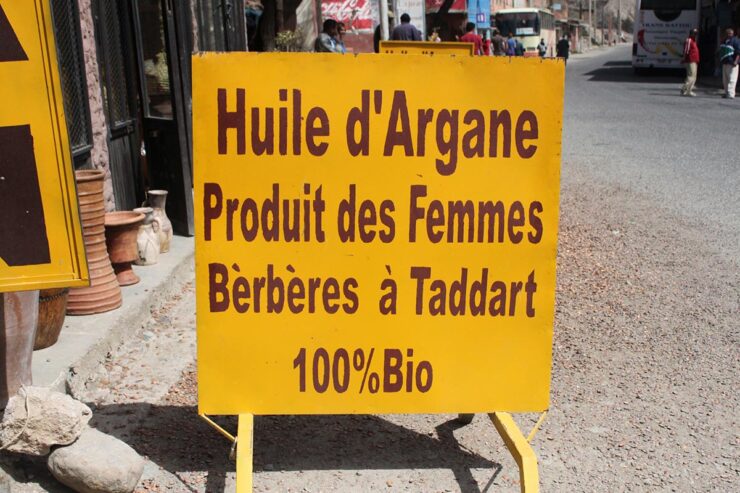 As I entered the small and cozy shop, women busy pounding argan kernels looked up and gave me tired smiles. A middle-aged woman named Aicha, who was managing the sales that day, cheerfully pointed out to me the variety of argan oil products made on-site: edible golden-brown amlou in small clay tagines, cosmetic oils in delicate glass bottles marked with a use-by date, soaps, and shampoos. I asked Aicha to tell me more about this cooperative.
She explained that at first, the men in Taddart were not keen on this organization of women because they had traditionally been the only breadwinners. They were also skeptical about women working outside of the home. However, with time and increased family incomes, the men became more accepting.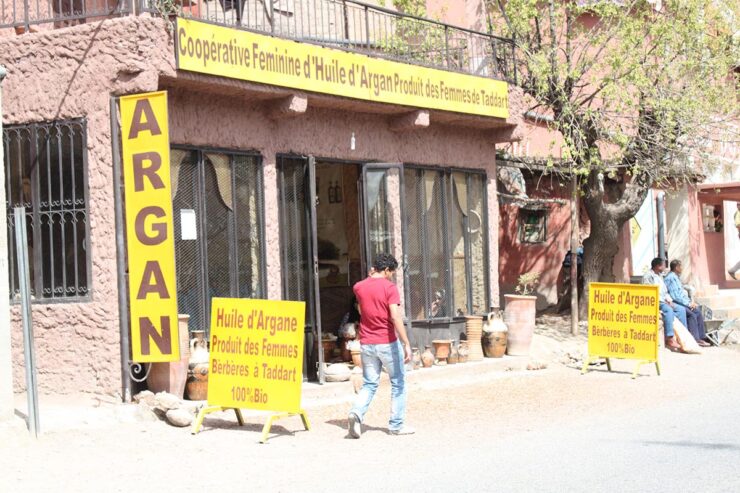 Unfortunately, by trying to grab some of this lucrative income for themselves, Aicha conceded that the argan oil industry in Morocco is facing problems of fake cooperatives, diluted oil, bogus accreditation, and degradation of argan forests.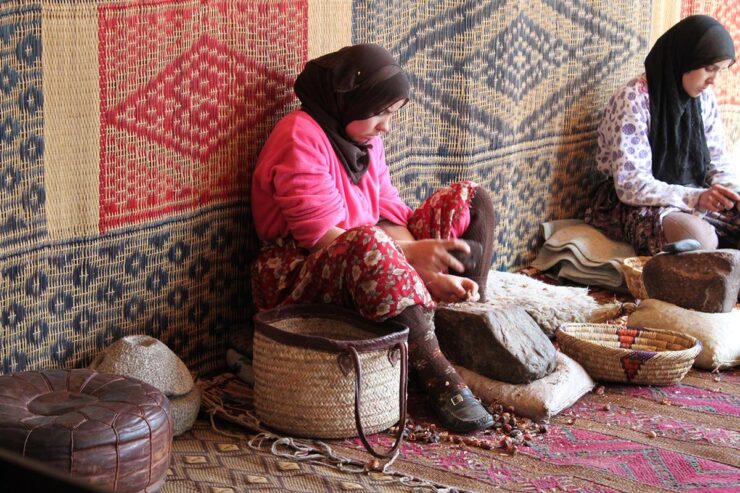 Fairtrade
Should you buy that expensive bottle of argan oil, whether it's pure or not? As with any product in today's highly globalized world, one woman's daily bread is easily another woman's exclusive hair serum. If you wish to use or consume argan oil, it is best to go straight to a certified organic and fair-trade source such as Tounarouz in Agadir or find a reliable international supplier like Saadia Organics.
It is important to look at the complex interactions between our consumption and the livelihoods of others, to help balance issues of biodiversity, fair trade, and thriving livelihoods.
[i] Samira Samane, Josette Noel, Zoubida Charrouf, Hamid Amarouch and Pierre Selim Haddad, 'Insulin-sensitising and anti-proliferative effects of Arganisia Spinosa seed extracts', Sep 2006, available here.
This article originally appeared in the September 2013 Luxe issue of Aquila Style magazine.