SIMFEROPOL (AFP) – Crimea's pro-Kyiv Tatar community, who are Muslim, on Tuesday, blasted a string of raids by the peninsula's Kremlin-loyal authorities on Ukrainian activists as a "campaign of intimidation" in the region annexed by Russia in March.
"Searches in Qur'anic schools, the homes of Tatar political and religious activists and pro-Ukrainian activists have become a regular occurrence in Crimea," Nariman Djelal, the deputy chairman of the Tatar assembly, or Mejlis, told AFP.
"It is a clear campaign of intimidation," he said.
Djelal lashed out at the peninsula's new authorities for attempting to scare local residents into thinking that "they should not express their civil positions in any way as that could lead to searches and detentions".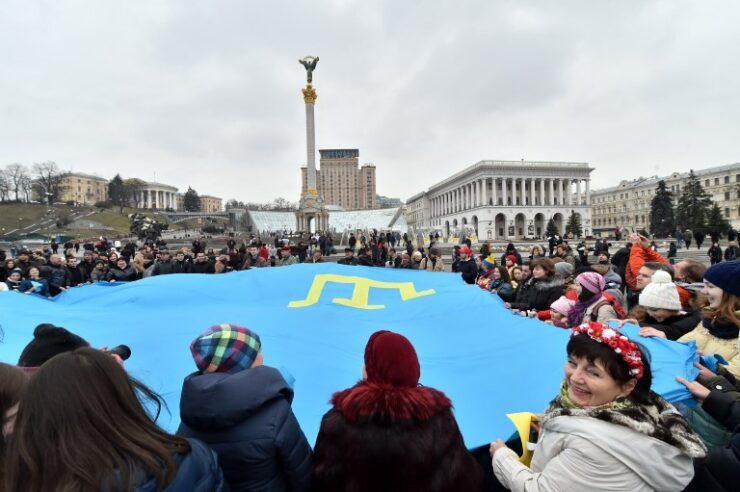 Camouflaged police special forces have since June conducted searches at four Qur'anic schools around the regional capital Simferopol as well as at the homes of numerous activists from the Tatar community, which fiercely opposed the region joining Russia.
On Monday armed police raided the residence of pro-Ukrainian activist and blogger Elizaveta Bogutska, a Crimean Tatar television station reported.
Law enforcement officials seized computers and questioned Bogutska for six hours at the anti-terrorist division headquarters, the pro-Kyiv activist's husband told the channel.
Moscow in March annexed Ukraine's Crimea peninsula following a disputed referendum in which pro-Kremlin authorities said nearly 97 percent of voters chose to split from Ukraine and join Russia.
Crimea's 300,000 Muslim Tatars, who make up around 12 percent of the peninsula's population, largely boycotted the vote and have faced increasing difficulties since the switch to Russian rule.
A UN report in August said that "harassment and discrimination continued against Ukrainian nationals, Crimean Tatar and other minorities" on the peninsula.
Some 16,000 people from Crimea — many of them Tatars — have become internally displaced in Ukraine, the report said.
Russia has also banned two leading members of the Tatar community from entering Crimea for five years.
A Turkish-speaking Muslim group, the Tatars were accused of collaborating with Nazi Germany during World War II and deported to Central Asia under former dictator Joseph Stalin.
Nearly half of them died of starvation and disease.
They began returning to Crimea under the last Soviet leader Mikhail Gorbachev and became Ukrainian citizens after the country's independence in 1991.