While not all Muslim women wear a hijab, many opt to do so as a symbol of their faith. This head covering is worn over the hair, neck, and bosom to preserve the wearer's modesty. A hijabi, or Muslim woman who chooses to wear a hijab, usually starts wearing a scarf or veil in public when they hit puberty.
Wearing a hijab bears religious and cultural significance for the Muslimah who chooses to wear it. If you haven't yet made a decision, reading the Quran using an app like Muslim Pro can give you the guidance you need. It is important to remember that many Muslim women wear their hijabs with pride and style it according to personal taste. If your conscience leads you to wear a hijab, here are a few styling options that can help you adapt it to your wardrobe.
Choose the Right Fabric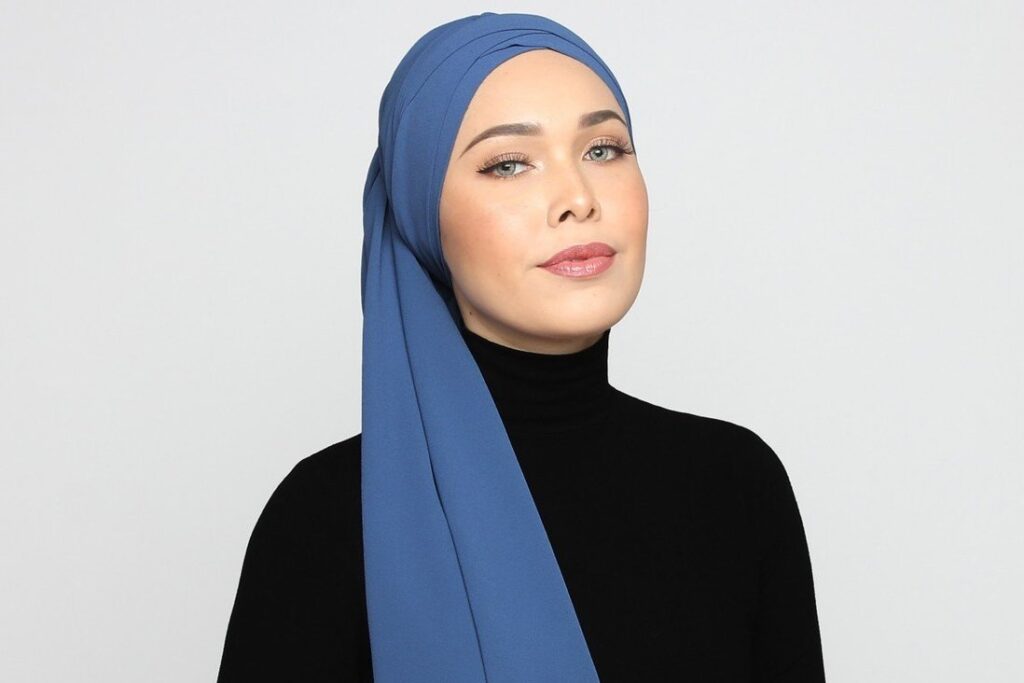 These days, there are many more hijab options available so you might find yourself feeling overwhelmed. As a general rule, choosing the right fabric is a good place to start as it can affect your level of comfort.
Modal is the fabric most commonly used for hijabs. Because it is a type of rayon, it has a pleasantly smooth feel similar to silk. However, it does not slip off as easily so hijabis find it easier to style. Modal also has moisture-wicking properties, which make it ideal for wear in warm weather.
If you enjoy a minimalist and modern style, jersey hijabs may be appropriate for you. The fabric is lightweight and stretchy, so you can even wear this without needing to use pins. Jersey hijabs are wrapped tightly around the face, and it is a popular option among younger Muslimahs who want to have a sleek look.
For a more formal and classic look, chiffon is a great fabric option. This soft fabric creates dramatic-looking folds that look very elegant and feminine. Chiffon is most appropriate for professional settings and special occasions.
Silk is one of the most luxurious hijab fabrics you can find, so this is usually reserved for wear to very special occasions like weddings. However, because the fabric is very smooth, silk hijabs have to be well-secured to prevent it from slipping off your head. Wearing a headband underneath can help to keep it in place.
Adjust It to Your Face Shape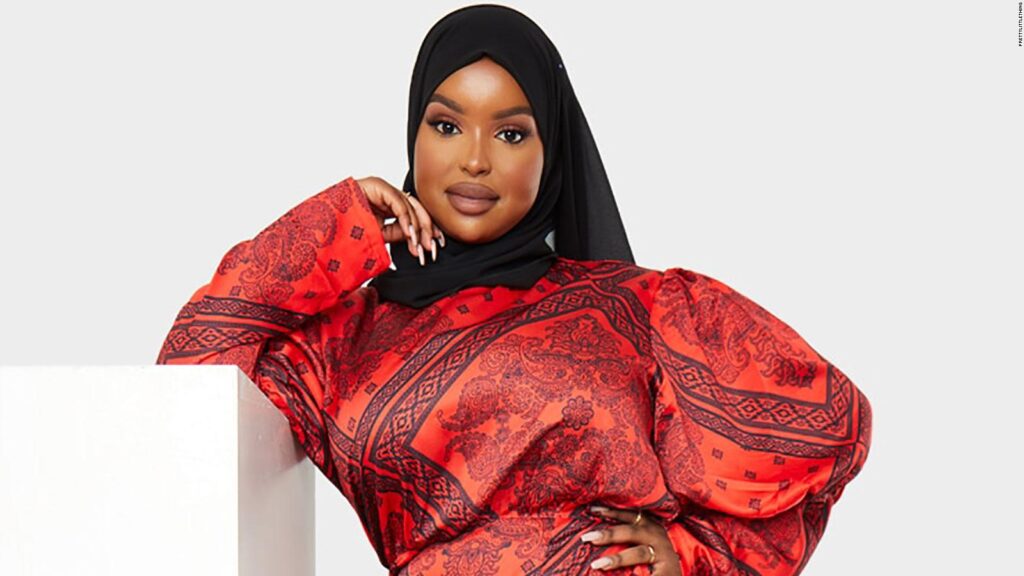 There are many different ways to wrap and fold the hijab around your head. In choosing a style that will flatter you best, make sure to consider your face shape. To determine your face shape, pull your hair back and look straight into a mirror or use your phone camera to take a selfie.
If your face is longer than it is wide, you probably have an oval face. This shape looks good in all kinds of styles, including the sleek hijab method often favored by the more fashion-forward.
If your face is as long as it is wide, you may have a round face. While this shape can make you look younger, allowing your hijab to hang loosely about your face makes it look more balanced. You can also pull the hijab forward to cover a bit of your cheeks to make them look slimmer.
If you have a straight hairline and angular jawline, your face is considered to be square shaped. To create a softer look, keep the top of your hijab loose and fold it so that the outline is more rounded. Choose a light and flowy fabric like chiffon to make your face look less angular.
If you have a wide forehead and a narrow chin, you have a heart-shaped face. Choose a wrap style that creates layers and draping around your neck to balance your features.
Dress It Up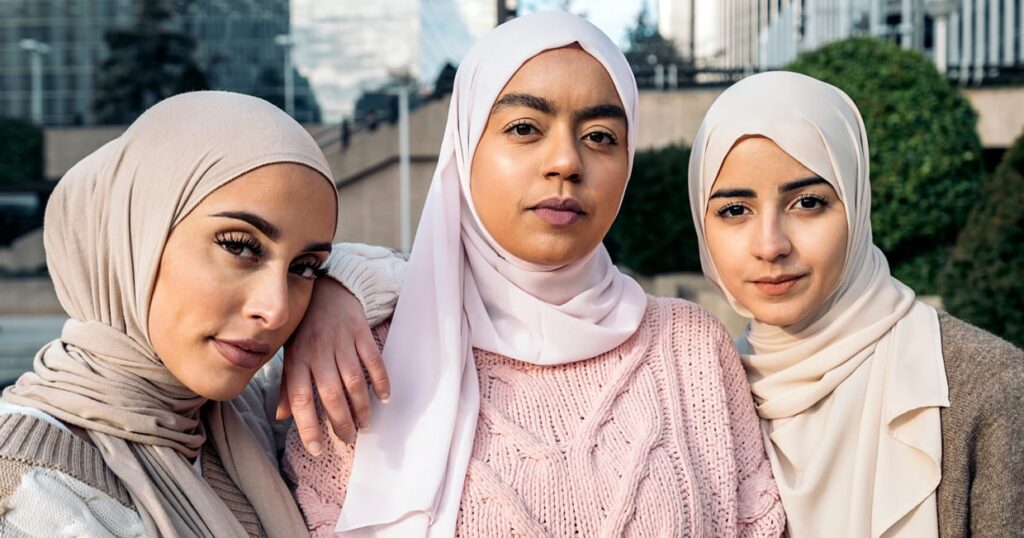 Hijabs come in a wide array of colors and prints, but aside from relying on fabric, there are more ways to dress it up. One popular option is to use ornamental pins to secure your hijab in place. Pins are usually applied discreetly so that they are not visible. However, you can place pins that are bejeweled or feature intricate designs like butterflies or flowers on the outermost fold of your hijab as a functional accessory.
An underscarf or bonnet is usually worn under the hijab to help keep it from slipping and to hold your hair securely. Choose a color the complements that of your hijab, or select one with an interesting design like lace or bead embroidery.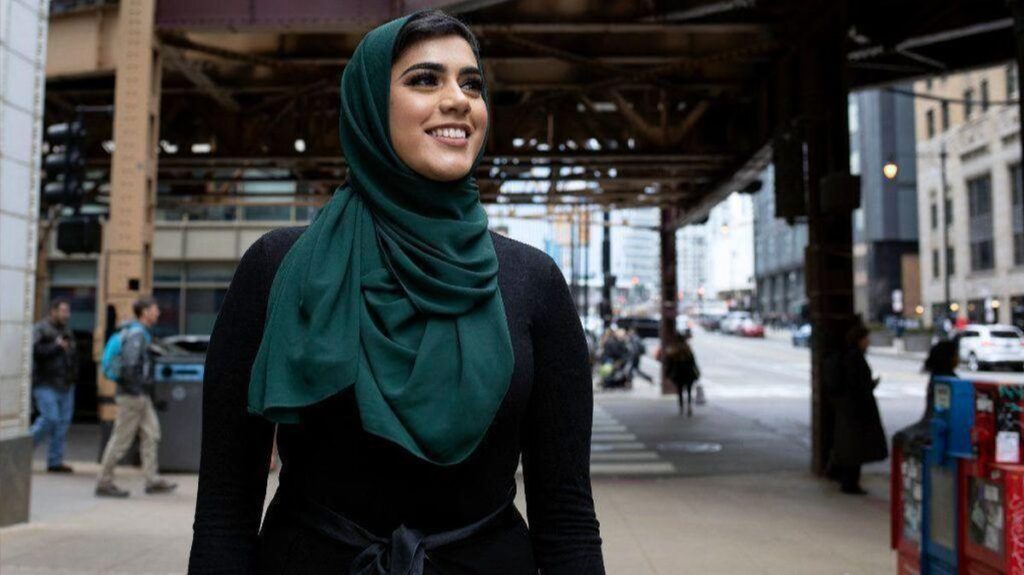 If you love wearing jewelry, you can style your hijab so that it shows off your earrings. This is a great option for dangling designs, large hoops, or statement pieces. To achieve this, apply the first head wrap only over the top part of your ears, allowing the earrings to remain exposed. Then allow the rest of the hijab to drape loosely around your face.
Although hijabs are a symbol of faith, they also allow the wearer to express their personal style even while practicing modesty. Choosing to wear a hijab is an important personal decision for a Muslim woman. If you haven't decided yet, reading the Quran using the Muslim Pro app and talking to other Muslimahs about their experience can give you the guidance you need.