Aquila Style is proud to be a Media Partner for the Global Islamic Economy Summit 2015, organized by Dubai Chamber of Commerce & Industry and Thomson Reuters. Be a part of the global platform that brings together over 2,000 policymakers and business leaders in the Islamic world. Register for GIES here
Reporting from the Global Islamic Economy Summit in Dubai, Jo Arremexamines evolving trends and asks: "Who is the Muslim consumer?"
Discussion of halal certification processes tends to split opinions. The waters get even blurrier, however, when minds collide on understanding the Muslim consumer.
Plenty of statistics have been thrown around at the ongoing Global Islamic Economy Summit in Dubai, United Arab Emirates. From talk of 1.8 billion Muslims set to grow to 2.2 billion by 2030 and a global halal market worth a whopping USD$2.1 trillion a year, the conveyor belt of statistics has served a constant sense of excitement.
And why shouldn't it? There was enough proof flying around that Muslims are a fast-moving demographic on all fronts: fashion, art, finance, food, travel and personal care products.
So it was immensely refreshing during the afternoon session when four esteemed panelists came round for 'Understanding Muslim Consumers', an hour's worth of assembly that addressed the very core reason why more than 3,500 people had registered for the Dubai event – the Muslim consumer.
But who exactly is the Muslim consumer? Faisal Masood, the founder of the American Muslim Consumer Consortium, says the United States might be a good model to cultivate that global understanding.
Faisal explains: "In America, 25 percent of Muslims are from the Middle East, another 25 percent are from the India sub-continent and another 25 percent are from Africa. The remaining 25 percent are from everywhere else in the world.
"This diversity represents the global market. Everyone is proud to preserve their heritage and values. But when they buy into a halal brand, they buy in for four different reasons.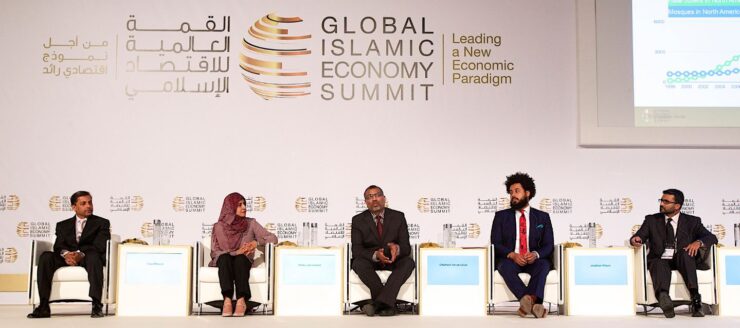 "Some focus solely on value [price]. They appreciate the best buy. Some are very supportive of their community and another group simply values the value of the brand. The fourth look at how and why faith is so important in their lives, believing that this is how Islam operates and so they buy."
It is that very fabric of halal that tailors the debate on where the agreement line actually sits.
From movies to electronics to downright fast-moving consumer goods, Muslims and non-Muslims do share a wide variety of dairy products. But where is the line when – as questions were posed by the floor – alcohol-free champagne and halal pepperoni are thrown into the equation? Is it a permissible act, or scorned as if a four-year-old had just crayoned the new curtains?
The proof is in the pudding as they say, or in this particular debate, the halal-certified logo. There is a lot to agree on, such as demand for quality, which is the very essence of halal certification. Crucially though, and probably not mentioned enough, is the ease of mind that Muslim consumers should rightfully demand when they see the halal logo embossed on a product's packaging.
Trust, in any business or industry, defines success. The modern 21st-century Muslim is now too savvy, too suave and too educated not to know the difference between quality and the emotional assurance that comes with the halal logo.
"There's something about the brand that people can believe in. Is halal just a logo or a certification process?" quizzes Shelina Janmohamed, vice-president of Ogilvy Noor in the United Kingdom. There is a curve-ball element in setting the tone, but as one of the world's 500 most influential Muslims, Shelina was in fact hitting the nail right on the head.
"In over 90 percent of people we studied, faith affects consumptions. For brands, that's a powerful way to start a conversation.

"As a group, the 'futurists' demand the very best standards in quality. They are not apologetic about being Muslim. What is important for brands and businesses is that 'futurists' are very brand loyal.
"This group wants to be creative. They want to engage with the world. They are very tech-savvy and very well connected. This is the group we want to engage with."
Jonathon Wilson, Editor-in-Chief of the Journal of Islamic Marketing in the United Kingdom, concurs. Words like quality, performance, the packaging just aren't used enough in halal discussions, he believes, adding that it is time the Muslim industry world took a leaf from the books of Germany and Japan.
"Just take a look at the Germans and the Japanese. Look at how the two countries rebranded themselves, and how they do business," said the convert of 14 years.
"Trying to classify and categorize people don't always work There is a fundamental shift in how we communicate. Brand Islam is rising and people want to understand it. Arabic is the language of Islam but increasingly at conferences such as this, we are speaking in English.
"Muslims all around the world are similar, yet unique in their own way. Halal extends beyond slaughter.
"People demand high quality, performance efficiency, sophistication and desirability – Muslims or otherwise."