Amal Awad speaks to Göknur Shanal, an opera singer from Australia who is working to live out her dream.
It's not often you meet someone who can single-handedly and dramatically, alter the mood of a packed room.
At a recent panel for local community group the Justice and Arts Network (JAAN), there was a palpable shift when a woman in the audience stood up, took the microphone and began to tell her story.
That woman was Göknur Shanal, a classical soprano and a Muslim of Turkish heritage. She is highly skilled in opera, has won numerous competitions since high school including the Australian Singing Competition, and has done master classes globally with the likes of Dame Joan Sutherland and Richard Bonynge.
But at 35, she's only just resumed her pursuit of opera after leaving the scene several years ago. Her reasons, she explained, were a combination of pressure (she felt dispensable) and spirituality. Can a Muslim woman perform in public to mixed audiences?
There are undoubtedly many Muslims with performance careers, but for a woman to sing in public and identify as a Muslim is no small thing. Depending on what side of the scriptural fence you sit on, many Muslims don't approve of listening to music at all.
We've seen Yuna, the Malaysian hijab-clad singer make some headway in the world of pop music, to great scrutiny. Yusuf Islam, formerly known as Cat Stevens, famously left music before picking up a guitar 20 years later, while remaining true to his faith.
But Göknur, who by her own admission isn't a 'traditionally observant Muslim', was refreshingly candid in talking about the clash between her religion and public performance – something she talks about in spiritual tones.
For her, singing to an audience is a metaphysical situation, making spirituality important to her and in singing.
'When you connect with hundreds of people at the same time, those hundreds of people suddenly become one, and then you've got this tightrope between yourself and them. For me, that union is what it's about, and what really makes it quite a divine experience for me.'
It's no surprise that Göknur describes having grown up in a 'secular household' in her childhood.
'Even though I was a very spiritual person growing up, I wasn't religiously aware. My grandmother was the only practicing Muslim in the household.'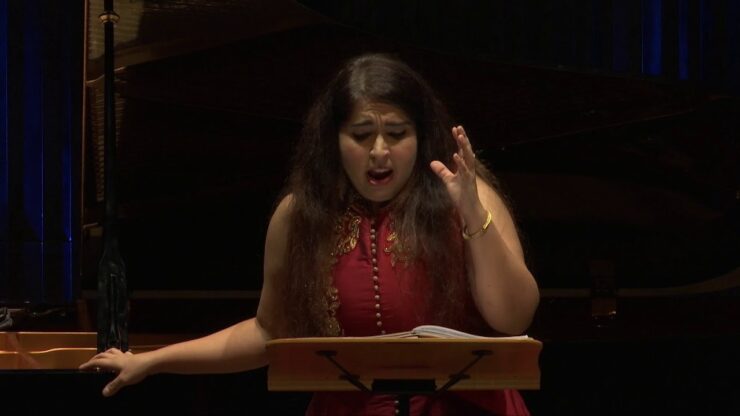 For Göknur, Islam was more of an identity than a lifestyle. However, in her 20s, she undertook her own search for Islam.
'I guess you go through those formative years of your teens, where you're trying so hard to fit in because one, you're a migrant, and two, you're caught in between societies. You want to belong somewhere, you can't quite belong anywhere. And you work extra hard, where you stifle your own identity.'
It's an issue that comes into play in the opera world, where Göknur says Turkish singers are uncommon, let alone Muslim ones.
'In [terms of] character, exotic looks are revered, but you don't see a lot of people from my part of the world in the company,' she says.
'There is one other known, established Turkish opera singer. Before him, there was a soprano called Leyla Gencer, and she had an amazing career. She was Turkish, [but] she never presented as Muslim. That never even comes to the picture.'
It hasn't stopped Göknur from wholeheartedly pursuing a career in opera.
Since first learning to sing at a conservatoire in Ankara, Turkey, at age six, Göknur says she has achieved the heights that any singing student could dream of achieving – winning competitions very early on.
Other achievements included a scholarship to study at the Royal College of Music in London, the offer of a Young Artist Program, coaching at The Met for eight months, and touring with Opera Australia's touring company, performing La Boheme.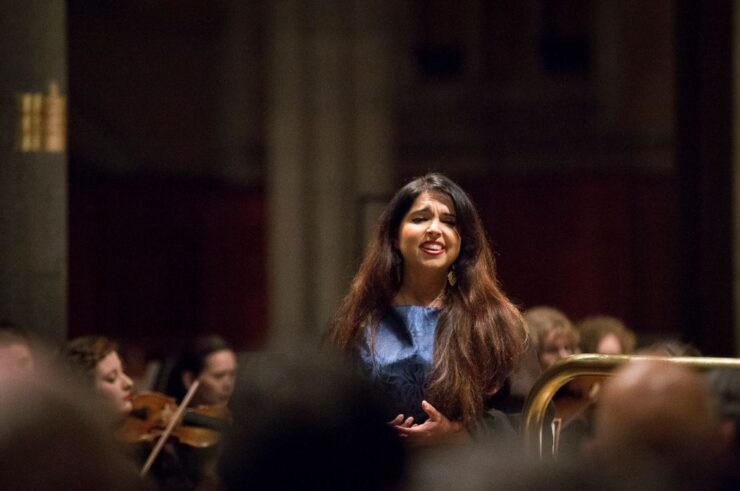 In returning to performance last year, Göknur says it was actually a female Muslim mentor who encouraged her.
'This is somebody who has watched my journey from singing professionally to quitting to starting again. [She's] somebody I look to as a spiritual guide, as a spiritual mentor. I would consider her to be a scholar. She's studied extensively, and I think the community sees her as such as well.'
Göknur says she wasn't seeking permission or validation to sing, but her mentor saw the internal struggle that came about because she wasn't singing.
'Her daughter, who translates books by religious scholars, recently finished translating the whole of the Quran into English, and it was [she] who said to me: "Everyone's got something stamped on their DNA, it's that gift that you're given,"' she recounts.
'It's very much part of your make-up. You're entrusted with that and you need to utilize that to its full potential. And if you don't, you're going to be oppressing your own nature and what your soul is designed to do.'
With the support of her husband, the mother of two is now organizing recitals and concerts. It signals the way forward for Göknur, who in the next five years aspires to be singing at music festivals and with symphony orchestras.
'Recording a CD would be nice, singing in production with Opera Australia would be nice. But at this point, it's just working towards putting yourself out there.'