Isra Almodallal, the first woman to be nominated as a spokesman for Hamas, is seen in her office in Gaza City on November 4, 2013. Almodallal, a 23-year-old journalist, says her goal is "to change the image of Palestinians and that of the government in Gaza". AFP Photo / Mohammed Abed
GAZA CITY, November 20, 2013. By Selim Saheb Ettaba (AFP) – Inside the Gaza government press office, a fresh-faced young woman makes her case in fluent English; outside, scowling bearded officials bark orders at masked militants.
Wearing a brightly colored veil and smiling broadly, 23-year-old Isra Almodallal admits with disarming candor that she still has a lot to learn in her role as Hamas's first-ever spokesperson for the foreign press.
Her job, she says, is to present "the views of the Palestinian government" — that is, the perspective of Hamas, which has ruled the impoverished Gaza Strip since ousting the forces of moderate Palestinian president Mahmud Abbas six years ago.
"I don't know, actually," she admits, her British accent marked by a distinctive northern twang picked up from spending her teenage years in Bradford.
"I wanted to know; I wanted to ask people from the de (the government): 'What's your view on this,' because I don't belong to the Hamas movement."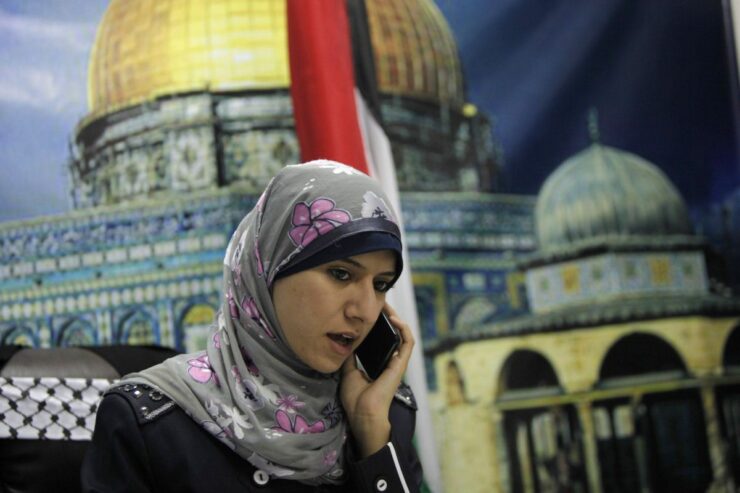 Born in Egypt, she grew up in Gaza then moved to England with her family so that her father, now a political scientist at Gaza's Islamic University, could finish his doctorate.
Before taking on the job as Hamas's English-language mouthpiece, Mudallal worked as a presenter on a local TV channel. An active participant in social networks and with one marriage already behind her, she describes herself as "proud to be a divorced woman".
A replica oud, or Arabic lute, stands on her desk, among books mostly in Arabic but also a copy of Great Expectations by Charles Dickens.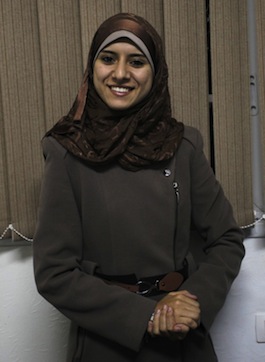 'Human issues are important'
Seated in front of a huge photo of Jerusalem's Al-Aqsa mosque compound, the third holiest site in Islam, she fluidly runs through the traditional Palestinian claims but using language that gives the narrative a fresher, more modern emphasis.
"The human issues are the most important thing to talk about, especially the humanitarian crisis," says Mudallal, who is descended from refugees who lived in a village near the port city of Ashdod in what is now southern Israel. These days she lives in Rafah on Gaza's border with Egypt.
"I live with my grandmother and she has Alzheimer's. She only remembers her village, and her memories with her dad and trees, and weddings there, the sea there, the smells of lemon," she says.
Hamas government spokesman Ihab al-Ghussein says the decision to employ a young English-speaker was part of the movement's strategy to communicate directly with the world.
"Appointing Isra is one of these means that we're going to use to try to talk to the West directly," he told AFP.
"Whenever we put a lady who used to be an activist in the Palestinian issues to be a spokeswoman, it is a practical way to say that we believe in this youth."
Learn more about what Isra does on her Facebook page