Let's continue to practise our daily sunnah with more tips from Shea Rasol in the second part of a two-part article.
Sunnah for the afternoon
Lunch
Sit down to a good lunch to have energy to last the rest of the day
Recite: "Allahumma barik lana fima razaqtana waqina athaban-nar. Bismillah", which means "O Allah! Bless (the food) You provided us and save us from the punishment of hellfire. In the name of Allah."
Wash your hands and eat with your right hand.
After finishing your meal, recite: "Alhamdu lillah il-lathi at'amana wasaqana waja 'alana Muslimin", which means "praise be to Allah Who has fed us and given us drink, and made us Muslims."
Dhuhr
Perform wudhu and recite: "I bear witness that none has the right to be worshipped but Allah alone, Who has no partner; and I bear witness that Muhammad is His slave and His Messenger." (Muslim 1/209)
Leaving / Coming Home
Recite: "Bismillaahi, tawakkaltu 'alallaahi, wa laa hawla wa laa quwwata 'illaa billaah", which means "in the Name of Allah, I have placed my trust in Allah; there is no might and no power except by Allah." (Abu Dawud 4/325, At-Tirmidhi 5/490)
Asr
Perform wudhu and recite: "I bear witness that none has the right to be worshipped but Allah alone, Who has no partner; and I bear witness that Muhammad is His slave and His Messenger." (Muslim 1/209)
Perform the asr prayer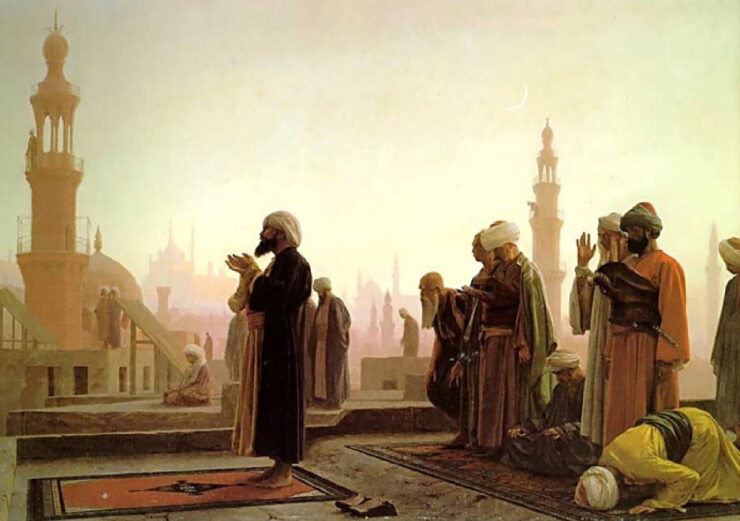 Sunnah for the evening
Visiting the masjid
Enter the masjid with your right foot first and recite: "Allaahummnaftah li abwaaba rahmatik", which means "Oh Allah! Open the Doors of Your Mercy for me." (Ibn Majah)
Perform the tahiyatul masjid prayer. Abu Qataadah cites the Prophet Muhammad (peace be upon him): "If any one of you enters a mosque, he should pray two ra'kaats before sitting." (Bukhari and Muslim)
Recite the Qur'an and dhikr in remembrance of Allah while waiting for isya'. Be in touch with your fellowship, or usrah (Arabic for "family") on alternate days. Make the best out of the short period between maghrib and isya'
Give salaams to fellow masjid-goers
Step out of the masjid with your left foot first and recite: "Allahumma inni as'aluka min fadhlik", which means "O Allah, I ask you for Your Grace." (Ibn Majah)
Dinner
Recite: "Allahumma barik lana fima razaqtana waqina athaban-nar. Bismillah", which means "O Allah! Bless (the food) You provided us and save us from the punishment of hellfire. In the name of Allah."
Wash your hands and eat with your right hand
After finishing the meal, recite: "Alhamdu lillah il-lathi at'amana wasaqana waja 'alana Muslimin", which means "praise be to Allah Who has fed us and given us drink, and made us Muslims."
Bedtime
Perform wudhu and go to bed
Recite: "O Allah, in Your name I die and live" (as narrated by Al-Bukhari), and the ayatul kursi, verses 255 of Surat Al-Baqarah, to end your day
The next morning, start your daily sunnah anew with Tips For Your Morning Sunnah Routine