Weddings are considered to be a very important event in any person's life. Weddings are a vital part of Muslim culture and it is considered one of the most sacred events that can happen in a person's life. Hijab is an important part of Islam and Wedding dresses are made keeping in view the importance of Hijab.
Hijab is a symbol of modesty and elegance and this symbol is kept in mind while making dresses for the wedding of Muslims. However, at some weddings, brides don't choose to wear hijab and it is considered socially acceptable. It is important to note that engagement is a part of the Muslim culture as well and segaljewellery.com has some great suggestions when it comes to engagement rings. Once engaged, the couple starts organizing their wedding.
Some tips that will help brides choose wedding dresses are:
Pick a color that is appropriate or matches with the style of the wedding place.
It is usually recommended that the brides choose dark colors for their wedding dresses but light colors do sometimes pan out very well too.
If the bride wants to wear a Hijab then she should choose such a design and look that goes well with her dress and personality.
Embroidered dresses that have complicated designs on them are very rending in the market.
In order to stand out from the rest of the guests, the dress of the bride should be unique and have a very different and elegant cut and style.
Try out fabrics that are used for special occasions only such as net, chiffon and silk.
Try and wear jewelry compliments the bride's dress and goes well with it.
Some of the best dresses for brides are shown.
Red Bridal Wear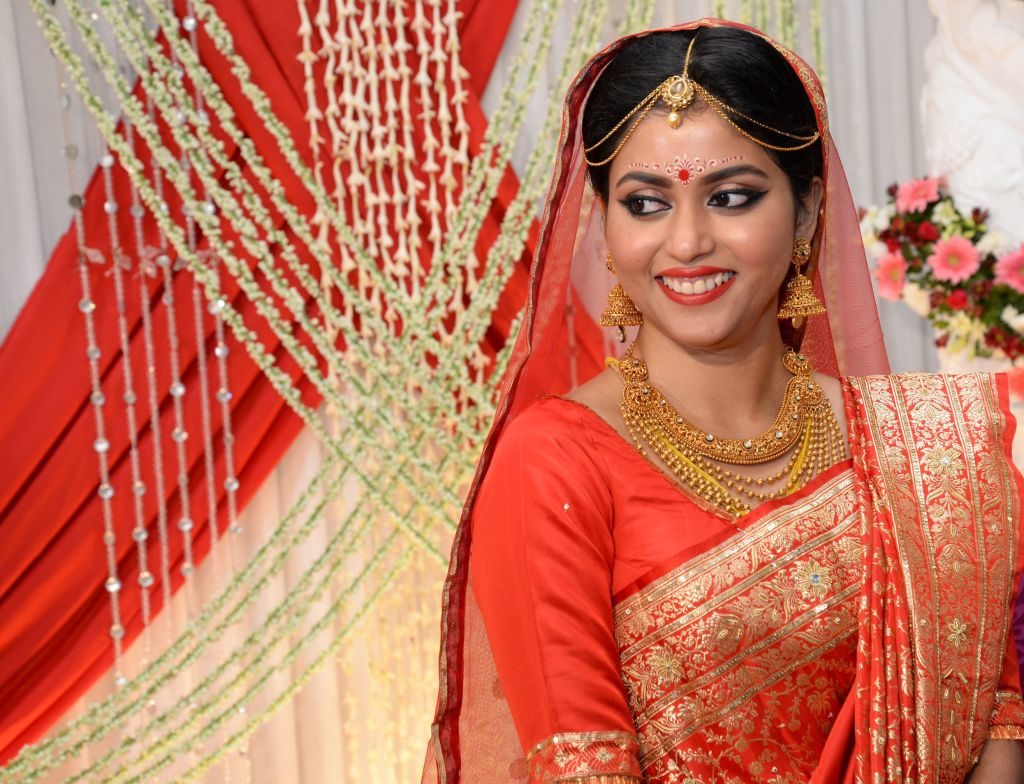 Red dresses are very common in Muslim weddings and have been a tradition for many years. The red color symbolizes love and passion and it is one the reasons why brides choose it as their wedding dresses color. Red is known as the color of the bride and on many occasions bride that wore this color looked stunning, elegant and graceful all at once. In most cases, red dresses are worn with heavy embroidery and matching jewelry.
Red dresses are usually made within contrast with a golden color and both the colors complement each other. The red color is also worn in contrast with the green, blue and purple. The makeup with red dresses is done in such a way that the eyeshade is usually of the color in which is contrasted with red whereas, the lipstick is kept red which is the main color of the dress.
Pink Bridal Wear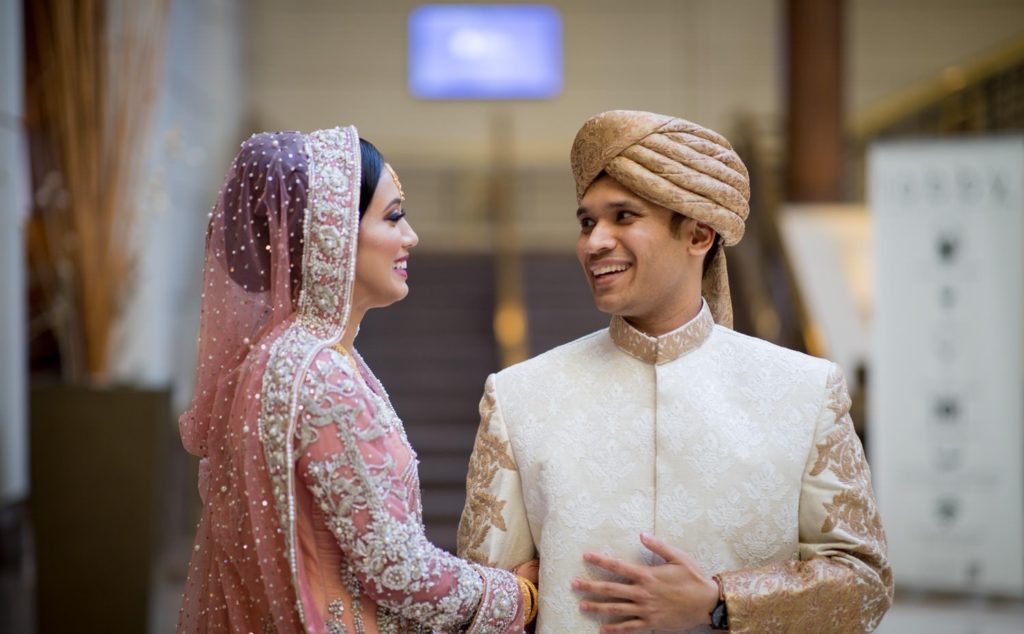 The color pink symbolizes affection, inner peace and approachability. Pink Wedding dresses are a rare sight at weddings because it is a very difficult color to contrast with other colors. Selecting proper embroidery and jewelry to go with it is a hard nut to crack but it all pays off in the end because these dresses are no doubt the most beautiful ones if found the right contrast with. Pink is usually worn in contrast with silver, dull gold, orange and grey.
The makeup done with pink dresses should be on the lighter side as it complements the dress and the bride will look overdone if she wears too much makeup. The eye makeup should be of dull gold color and for lipstick, there are two choices. The bride can either opt for pink is she is going for a lighter look and for a more bold look the bride can use red lipstick.
Blue Bridal Wear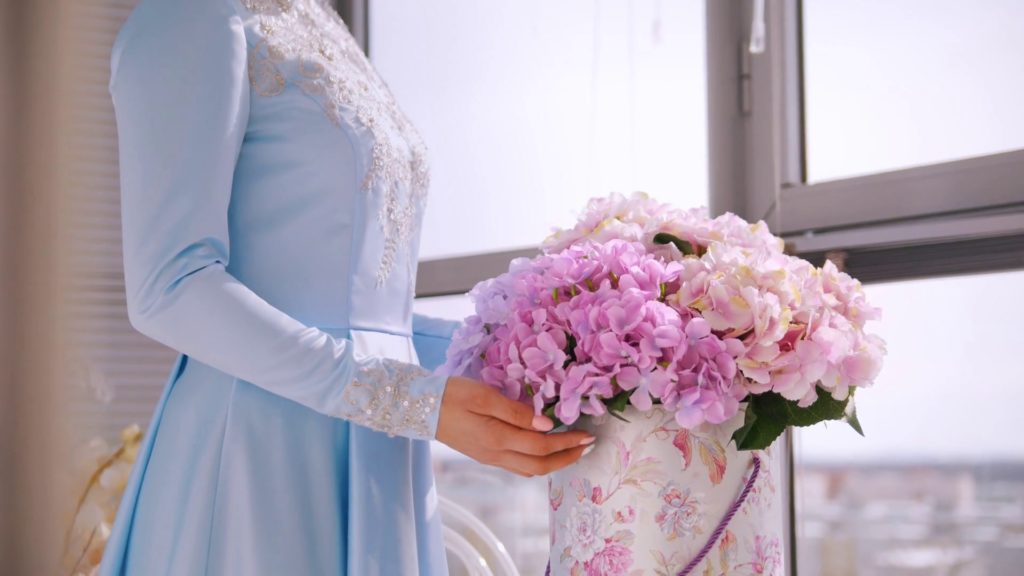 The color blue symbolizes trust, loyalty wisdom and confidence. Wearing a blue dress at your wedding is a very bold choice and many people would not go for it because it is a very difficult color to pull off. There are many shades of blue that can be worn by brides out of which the best is navy blue because it oozes class and elegance and gives the bride the attention that she needs and truly makes her feel the bride.
Some other shades of blue that can be used are royal blue, space blue and Prussian blue. In order to wear a blue dress at your wedding, the bride should be very confident as it is a requirement of wearing blue. To find a matching contrast with blue color is a very tough nut to crack as not many colors go well with blue the bride cannot risk ruining her wedding day dress by contrasting a color that does not go well with her dress.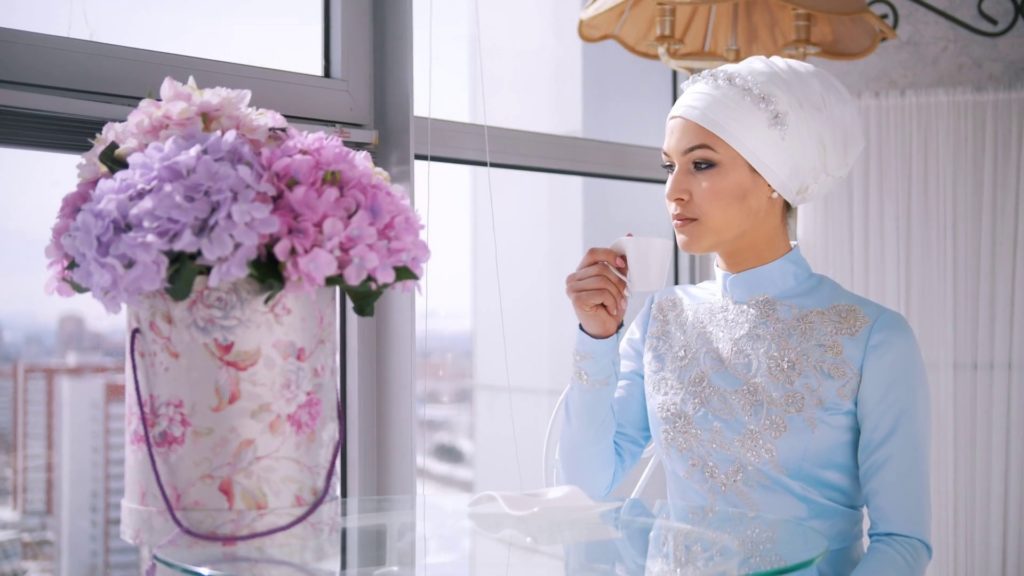 The colors that can be used to contrast with blue color are red, silver, gold, green and grey. The jewelry worn with blue color should be of gold and the stones used in that jewelry should be of the same blue color as that of the dress. The makeup worn with blue dresses is usually kept grey or green depending upon the shade of blue that is being used in the dress. The eye color should be of the contrasting color tone so that it gives uniformity of the dress.
Maroon Bridal Wear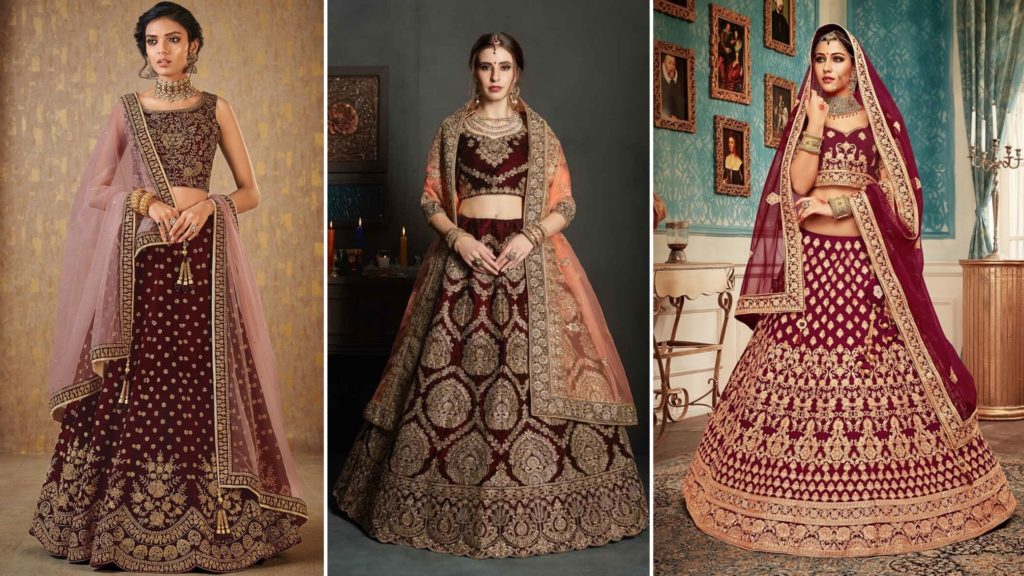 The color maroon symbolizes attributes such as creativity, excitement, power, love, and ambition. The maroon color is a traditional color when considered as a wedding dress color. Brides used to make such colored dress in the past but the use of maroon has been quite less taking into consideration other colors such as red, gold and blue. However, wearing a maroon color dress would be quite a pleasant surprise as it would bring back a sense of nostalgia among the ladies at the wedding. The color maroon itself is a very elegant color and oozes class.
The colors that are contrasted with maroon are dull gold and antique color palette. In maroon dresses, contrast is done by using strips on the border of the dresses which can be of colors such as green, red or multicolor. The jewelry worn by the brides is mostly traditional gold sets with stones of matching color with the dress. The makeup with maroon dresses should be shimmery eye makeup with lipstick matching the color of the dress.